By Roland Lechner
Arizona Daily Wildcat February 25, 1998

Vaulting to new heights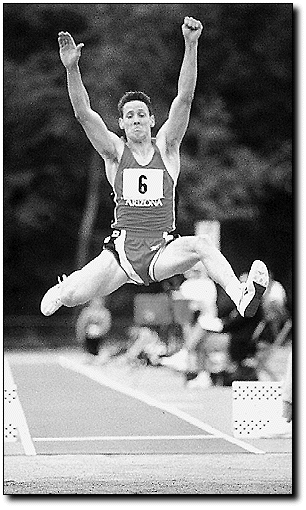 Photo Courtesy of UA's Sports Information Department
Arizona Daily Wildcat
Senior Dominic Johnson takes off in the long jump during the '97 NCAA Championships decathlon in Indiana, where he finished in sixth place.

Contrary to the commercial of a well-known sportswear company, UA track and field pole vaulter Dominic Johnson's favorite quotation is "Don't just do it, do it better".
Throughout the senior's athletic career, this attitude has helped Johnson compete on a high level. For instance, Johnson has already qualified for the Indoor NCAAs at Indianapolis in March.
He did so two weeks ago at the Cornhusker Invitational by vaulting 18 feet in the early-season meet to win the event.
"He is the kind of guy you have to drag off the track or tell him to stop. You never have to worry that he may not show up for practice," UA track and field head coach Dave Murray said.
But the pole vault is not Johnson's only solid discipline. He's also a strong contender in the decathlon, where he is close to reaching the magical 8,000-point mark.
"He is the best all around athlete we've ever had at the university," Murray said.
It is difficult to pick one or two of Johnson's many outstanding performances, but qualifying for the 1996 Olympic Games in Atlanta representing his native St. Lucia, West Indies, and setting the current school record with 18-1 1/2 at the Drake Relays in Des Moines, Iowa, in 1996 have been milestones in his career.
Even though Johnson's 18th place finish didn't advance him to the finals at the Olympics, the experience was nevertheless intense.
"To be honest, that caliber of world class competition was too premature (for Johnson) at that time. But watching those guys (like Sergej Bubka) train was definitely valuable," Johnson said.
But during the last couple of years Johnson had to cope with setbacks including a disappointing 1997 season.
He didn't qualify for the NCAA's pole vault competition.
"I struggled during the year and had five weeks in a row without clearing any height at all. That was the absolute low of my career. I wasn't having fun anymore," Johnson said.
Yet he didn't give up.
"This year I really rededicated myself to work hard," he said.
Johnson moved with his parents to Tucson at age 2. He began his athletic career at Amphitheater High School.
"My brother when he was 2 years old inspired me to start track and field and already as a sixth-grader, I knew that I wanted to become a pole vaulter," Johnson said.
But pole vaulting is not a very popular sport among high school students. At one point, the entire pole vaulting program at his school was in danger of disappearing from the list of supported sports events. Johnson even had to change coaches at least once a year, which is not helpful when looking to gain consistency.
But these obstacles didn't keep him from placing third at the National High School Indoor Championships in the pole vault, becoming a USA Today All-American.
When Johnson graduated from high school in 1994, Arizona was considered to be one of the worst track and field programs in the Pacific-10 Conference. He said UA assistant coach Mike Maynard, who is responsible for the throwers and decathletes, was the main reason he chose to be a Wildcat.
"He made a commitment to me that (UA would) build a new (pole vault) program. He promised to recruit other great vaulters, like he did with Jussi Autio and Jeff Dutiot," Johnson said.
"Now I feel we have the best program in the Pac-10. It gives you definitely more motivation to train with two guys who are able to beat you," Johnson said.
Athletic excellence is not the only quality Johnson has to offer.
As a co-captain this season, he is one of the team's key figures.
"For Dominic, the team always comes first. Although it is very tough, he will pole vault, long jump, high jump or even run in the relay at one meet (if necessary). He is not a person to withdraw from his duties," Murray said.
Johnson also dedicates time to UA's Student Athlete Advisory Board, which voices concerns about issues to the athletic department. He is also involved in community service with the track and field team.
"You never have to ask him to do something off track. You can always count on Dominic," Murray said.
Aside from doing well at the NCAA outdoor competition in Buffalo, N.Y., in June, the senior has higher goals.
"For myself, if things keep going like they are I'm planning to compete in the summer in Europe and I hope to get invited to the Goodwill Games, Johnson said.
"A lot of people train and put in 70 percent, but the extra 30 percent is what makes the difference," Johnson said.
And he definitely is someone who makes a difference.
Path of success
During his four years at Arizona, senior pole vaulter/decathlete Dominic Johnson has showed some outstanding results including:
Pole vault
1997 Third place at the Pac-10 Championships with a mark of 17-0 3/4 feet
1996 18th place in the preliminary round of the pole vault competition at the Summer Olympics in Atlanta
Third place at the NCAA Championships with 17-10 1/4 feet
Set the school record at the Drake Relays in Des Moines, Iowa, with 18-1 1/2 feet
Decathlon
1997 Sixth place at the NCAA Championships with 7,596 points (fourth best in school history)
Second place at the Pac-10 Championships with 7,191 points
1996 Fourth place at the Pac-10 Championships with 7,191 points