By Craig Degel
Arizona Daily Wildcat February 25, 1998

2 UA guards named Naismith finalists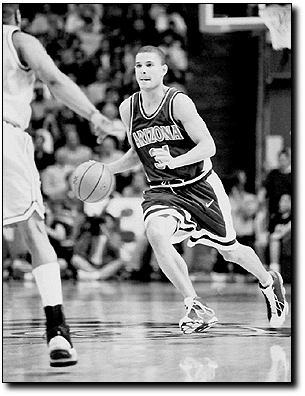 Katherine K. Gardiner
Arizona Daily Wildcat
UA senior guard Miles Simon (34) looks down the court for an open player. Simon and teammate Mike Bibby were named as finalists for the Naismith College Player of the Year Award yesterday.

Arizona's backcourt duo of Miles Simon and Mike Bibby were each named finalists yesterday for the Naismith player of the year award.
The winner will be announced April 4 in Atlanta.
Joining Simon and Bibby on the list are Antawn Jamison and Vince Carter of North Carolina; Patt Garrity of Notre Dame; Matt Harpring of Georgia Tech; Trajan Langdon of Duke; Kenny Thomas of New Mexico and Raef LaFrentz and Paul Pierce of Kansas.
One track minds
At the risk of getting ahead of themselves, Arizona basketball team members seem to be thinking about one thing more and more lately - going 18-0.
No one has ever done it in the Pacific 10 Conference. UCLA went 14-0 many times in the Pac-8. Just four teams have gone 17-1. Arizona has done it three times and Oregon State did it once.
Other teams have started to sit up and take notice of Arizona's chances.
"It would be a tremendous accomplishment," Stanford coach Mike Montgomery said. "I remember they have been 17-1 before and we have been the only team that has beaten them."
Did he mention that his team would be at McKale Center Saturday?
"With this being the last weekend at home, the coach's biggest concern is that the guys know they have got their hands full on Thursday. Saturday is going to be a big game either way," Arizona head coach Lute Olson said. "But it'll be huge if we don't take care of business on Thursday."
The resurgent California Golden Bears visit McKale Thursday.
Clichés 101
Athletes and coaches use clichés like they're going out of style. But clichéeacute;s can be good when you're stuck between a rock and a hard place and trying to find something to say.
And when it comes to clichés, most people try to avoid them like the plague - except the Arizona basketball team.
Consider some of their comments from yesterday's press conference.
Michael Dickerson on the last four games of the regular season: "We need to take it one game at a time."
Olson on Dickerson: "Last year he took us on his back and carried us for the time Miles was away."
Olson on this weekend: "The big concern to me is that we take care of business one step at a time."
Thankfully at 24-3 overall and 14-0 in the conference, the Wildcats are not behind the eight ball.
Seeing Red
Arizona's game Saturday against the Cardinal is being billed as the "Red Scare" by the UA publicity department. Fans who attend the game are asked to wear as much red as possible. Following the game, the Arizona football team will hold a "Meet the Team" function on the UA practice field highlighted by a question and answer session with head coach Dick Tomey.