By Seth Doria
Arizona Daily Wildcat February 25, 1998

Barnes named player of the week as UA travels west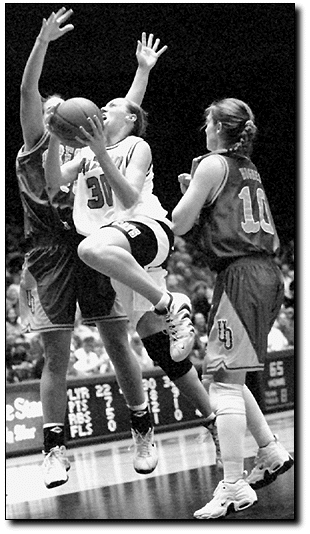 Nicholas Valenzuela
Arizona Daily Wildcat

UA senior forward Adia Barnes (30) goes up against Oregon St. defense Saturday night at McKale. Barnes just won the Pac-10 Player of the Week Award, which is the seventh time she has recieved this award in her career. She averaged 24.5 points, 9.5 rebounds and 4.5 steals in a home sweep of Oregon and Oregon State.


What do you get when you combine a guard's ability to run the court, a center's ability to rebound and a slew of offensive post moves?

Answer: last week's Pacific 10 Conference player of the week, 5-foot-11 UA senior forward Adia Barnes.

After averaging 24.5 points, 9.5 rebounds and 4.5 steals a game last week in a home sweep of the Oregon schools, Barnes was given the award for the third time this season and seventh time in her career.

Barnes is the only Pac-10 player to win the award three times this season.

"She's a different kind of post player than we're used to seeing," said Stanford senior forward Vanessa Nygaard, whose Cardinal will host the Wildcats Saturday.

Nygaard pointed to Barnes' ability in the transition game and her outside shooting touch as reasons for her success.

"She creates match up problems," she said. "It should be a good game with her against Olympia (Scott, Stanford's 6-2 senior center.)"

Barnes will need another big game against the Cardinal because senior center Marte Alexander is listed as questionable for the game.

Alexander injured her right knee coming down with a rebound late in the game against Oregon State Thursday. The injury, however, is not as serious as first feared by UA coaches and trainers.

"We thought it might be a career-ending injury," UA head coach Joan Bonvicini said. "We thought she tore her ACL."

As it turned out, Alexander, who has been riding an exercise bike during this week's practice sessions, sprained a ligament in her knee and will travel with the team this weekend to Northern California.

"I won't play her unless she's 80 percent or better," Bonvicini said.

With senior Mikko Giordano stepping into the starting lineup for Alexander, the Wildcats become a very short team, especially compared to Stanford.

Without the 6-4 Alexander, Arizona will only have two players at or over six feet tall. Giordano is 6-1 and junior guard Shontey Hambrick is 6-0.

Stanford, on the other hand, has four players as tall or taller with Scott (6-2), Nygaard (6-1) and forward Heather Owen (6-4), along with supersub Kristin Folkl, who stands at 6-2.

But don't expect Stanford coach Tara Vanderveer to go changing her game plan.

"We're going to take it inside either way," she said. "I hope that she (Alexander) does play in that game."

Nygaard said her team was pumped to play Arizona, the same team that broke the Cardinal's 48-game conference winning streak with a 91-90 win in Tucson in January.

"It's our last game playing at Maples (Pavilion)," Nygaard said. "It is a big game for our team. I'm sure we'll be ready to play."