By Nicole Manger
Arizona Daily Wildcat March 11, 1998

Tanning salons busy before spring break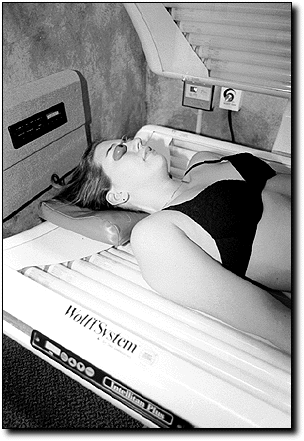 Kristy Mangos
Arizona Daily Wildcat

Megan Baker, psychology sophomore, lies out in a tanning booth at Sunsations Tanning and Travel Center yesterday. Baker is one of many students working on their tone in preparation for spring break.


Armed only with a pair of goggles, many UA students are baking in tanning beds before braving the beaches this spring break.

"Our business doubles," said Pat Reykdal, owner of Tucson Tanning Centers, which operates four tanning salons in Tucson. "It's real busy before spring break."

Susan Hutt, manager of Maui Beach Sun Centres on North Park Avenue, agreed. She said in February, her salon, with 19 beds, saw 70 customers a day.

But this month, 200 customers are tanning each day at Maui Beach - in an almost 50-50 split between men and women.

Students spend about $7 a session so they can look golden on the beaches of Mexico and other spring break destinations. Package discounts and coupons at both salons lower the price to between $2 and $6 a session.

Protective eye goggles and tanning lotions are also required by law. These extras can raise the bill to $60 to begin tanning.

Hutt said customers will start to see a golden tan after three 10-minute sessions.

The Food and Drug Administration limits the amount of time a person can spend in a tanning bed to no more than three 30-minute sessions each week, according to information from the University of Arizona Wellness Center.

Sarah Perlman, retailing and consumer studies senior, has been tanning for two years, 20 minutes twice a week. Originally from Nebraska, Perlman no longer feels comfortable without a tan in Tucson.

"I am really white. I need all the help I can get," she said.

Tanning in a salon is touted as providing a protective base for natural sunlight. Getting a base tan reduces the risk of burning, Reykdal said.

"There is a lot less chance you'll ruin your vacation because of a sun burn," she said. "Of course, you'll still have to use sun block."

Hutt said getting a base tan at a salon will help keep sunburns to a minimum, which means students can spend their days in the sun - not covered with aloe vera.

A base tan is the building up of the skin's melanin, or pigment, through multiple exposure to ultraviolet-B rays via tanning beds.

The skin contains a specific amount of melanin determined by a person's genes. A base tan protects a person about as much as SPF 4 sunblock, according to a melanin expert quoted in Glamour magazine.

Natural sunlight emits both ultraviolet-A and UVB rays. Tanning beds have a higher concentration of UVA rays, which produce a glow that comes quickly but only lasts a few hours or days, according to information from the Wellness Center.

Tanning salon owners said it is better to have a base tan from a tanning bed, but the American Academy of Dermatology's Photobiology Task Force has stated that there are "no known beneficial effects of sun exposure or of tanning booths to health."

All tanning salons ask customers to sign a release that states they realize the dangers associated with tanning beds' UV rays.

"Nothing is safe in life," Reykdal said. She asserts that tanning indoors in a controlled environment over a period of time is safe in moderation.

"Tan SMART," she said, quoting her company's motto, "Sensible, Moderate, Appropriate, Responsible Tanning."

Ali Edlavitch, sociology sophomore who is going to San Carlos, Mexico, for spring break, said she tans both at a salon and outdoors.

"It makes me feel better about myself when I'm tan," Edlavitch said.

"People tell me, 'You're going to get skin cancer or wrinkles or look like a leather suitcase when you're 30,'" she said. "I'm happy now. Why live for 10 years from now?"

Danielle Schanke, marketing senior, said she would never enter a tanning bed again. Over winter break, she visited a Scottsdale tanning salon offering a free first tan.

Schanke said she went in for 10 minutes and was sent back for another five minutes because she showed no color.

"After I came out the second time, I had color," she said. "A couple hours later I exploded into a cherry tomato."

Schanke said she was severely burned for a week and unable to sit comfortably. The next week she started to peel and itch.

"I was literally uncomfortable in my own skin. I never want to do that again," Schanke said.

An American Academy of Dermatology pamphlet states that there is no such thing as a healthy tan.

"A tan is the skin's response to ultraviolet-induced injury and is a sign injury has occurred," the pamphlet states.

Perlman said she realizes there are dangers to tanning.

"I try to keep healthy in other ways, like exercising and eating right, plus I'd rather be tan," she said.