By David J. Cieslak
Arizona Daily Wildcat March 11, 1998

Likins to speak with students, ASUA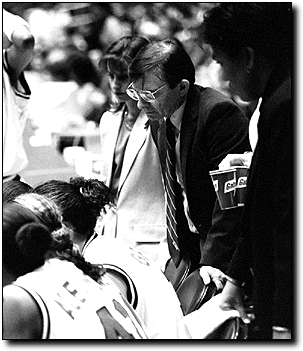 Ian Mayer
Arizona Daily Wildcat

UA President Peter Likins listens in on a huddle during the women's basketball game against UCLA Saturday. Likins will appear in front of the ASUA Senate to discuss the Nike contract with the athletic department tonight at 6.


For the first time in more than eight years, a UA president will appear tonight in front of the ASUA Senate.

University of Arizona President Peter Likins will speak to the Associated Students on campus issues, focusing mainly on concerns over the UA's pending contract with Nike.

"This is an expression of my respect for student government," Likins said. "I have a responsibility to speak with the constituency on campus, and my first line of communication is through existing government bodies."

ASUA President Gilbert Davidson said the Senate will welcome speakers from groups concerned about the contract between Nike and the UA's Athletic Department to ask Likins and the Senate questions.

"We will make sure we invite representatives of groups that oppose this so they have a chance to have a say," Davidson said.

Likins encourages students with opinions on the issue to address him and the Senate.

"People who carry pickets and register opinions are perfectly welcome," Likins said. "I want to be a willing participant in the dialogue."

ASUA Adviser Jim Drnek said he only vaguely remembers the last time a president spoke at a Senate meeting, and thinks Likins is sending an important message to the student body.

"It will show students on campus that the administration values student opinion and is concerned with the student experience," Drnek said.

Drnek said UA community members have unanswered questions for which Likins could have answers.

But Drnek said those questions must be presented properly.

"We'll ask people to leave if they can't be respectful of other's rights to share information," he said.

Davidson is looking forward to the visit and hopes Likins will be able to educate students on the issue.

He also said the president understands the significance of ASUA's voice.

"He recognizes the importance of student input, and recognizes that the Senate is the official voice of the student body," Davidson said.

The public is welcome to all ASUA Senate meetings. Tonight's meeting is at 6 in the Memorial Student Union Tucson Room.