By D. Shayne Christie
Arizona Daily Wildcat September 10, 1997

Student claims discrimination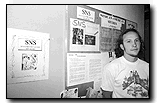 Ryan A. Mihalyi
Arizona Daily Wildcat

UA Spanish sophomore Jeremy Edgar says he was discriminated against because of his ethnicity by Professor June Jaramillo when he tried to sign up for Spanish for Native Speakers. Jaramillo claims that she was going by department policy.


Jeremy Edgar came to the UA to study Spanish after spending a year in Argentina learning the language. With that under his belt, and a perfect score on the College Level Examination Program test, he figured he would have no problem getting into Spanish 343 - Phonetics for Native Speakers of Spanish.

However, he was not allowed into Professor June Jaramillo's class, and Edgar said he is being discriminated against because he is white.

Edgar said Jaramillo singled him out immediately and tested his Spanish skills because he was "white." He said her attitude was that he simply did not belong there.

"The way she treated me and humiliated me in front of the class was not very professional," he said.

Other students in the class supported him and at least one student wrote a letter to the department protesting the professor's actions, Edgar said.

He also said Jaramillo would not give him her room number or office hours. So he went to Malcolm Compitello, head of the department of Spanish and Portuguese.

"He (Compitello) said 'No, you belong in that native speaker class.' He said a major is grounds for me to be in that class," Edgar said.

Compitello would neither verify that statement, nor would he discuss any specifics about the incident.

Edgar, a Spanish sophomore, went back to the class after speaking with Compitello, and said, "The second time it was worse."

"I told her she discriminated against me - she said you are being discriminated against by your own kind."

Jaramillo said Edgar would do best in a non-native speakers' class, and felt that he still needed to work on his accent.

Edgar has since moved into Spanish 340, the non-native equivalent taught by Mary Zampini.

"His Spanish is very good, I don't think he would have a problem competing with others (in Spanish 343)," Zampini said.

Compitello said he tried to enroll Edgar in a higher level class above 343, but none of them fit into his schedule.

Edgar said he wants a precise definition of "native speaker" from the department.

The department's own literature states, " Spanish for Native Speakers program consists of a series of courses for the student who grew up listening to Spanish in a natural environment, for example, in the home with relatives or within the community."

Jaramillo said native speaker classes teach Spanish differently from normal classes, and said her statement that he was being "discriminated against by your own kind" was meant to point out he would be better educated in a non-native class.

Her decision to exclude Edgar from the class was based on the department's own policy, and she contends the department is intentionally sending her students who do not belong in a native speakers class in an attempt to make her look bad.

She said since starting at UA in 1990 she has experienced discrimination and harassment because she is "Chicana."

Jaramillo is filing a suit against the University of Arizona for denying her tenure and also is filing a complaint with the UA's affirmative action office.

"This department has a long history of anti-Chicano sentiments," said Jaramillo, who said she is the "only Chicana in the department."

She also said Hispanic women are rarely awarded tenure in the department.

Compitello categorically denied the allegations.

He said there are more Mexican Americans in the department than any other nationality. There are six or seven tenured men, and three tenured women - one of which is Mexican American, he said.

"I think the university judges each individual case on its merits," Compitello said.

Edgar went to the Dean of Students Melissa Vito with his complaint, but she said it is too early to say whether this is a case of discrimination.

"This is the kind of issue that a lot of times students come to talk to us about," Vito said.

Edgar submitted his complaint in writing to Compitello, and is pursuing the matter with Charles Tatum, dean of the College of Humanities.

Nobody at Tatum's office was available for comment.

Edgar has not filed an official discrimination complaint, Compitello said.