By G. Patrick Revere
Arizona Daily Wildcat September 10, 1997

Champs bring back more than national title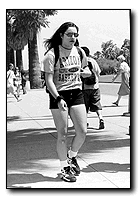 Leigh-Anne Brown
Arizona Daily Wildcat

Jeanette Serrano, a physiological science junior, walks along the UA Mall displaying her school spirit. Following the UA men's basketball national championship, the sale of university-licensed products is four times greater than usual.


Licensed products bearing national championship logos from the Arizona men's basketball team have generated more revenue than even some university officials had expected, a UA licensing administrator said.

"When you make a certain number of articles there is a burden on you because now you're responsible for selling those items," said Mike Low, assistant director for Student Business Affairs. "But we have sold those items, so if you get a chance to do it again, you can ask for more."

Low said University of Arizona licensed products totaled about $403,000 in the second quarter, nearly four times what is normally expected in a four-month period. National championship logos accounted for about 55 percent of those sales, about $222,000 in all.

Low said traditionally the money generated by licensed products go to Student Affairs and the Student Union budget in a number of areas. Revenue from logos that have "Final Four" or "National Championship" on them are split so Intercollegiate Athletics gets 60 percent of the total.

"That money goes to ICA because if they hadn't been that successful, we wouldn't be able to sell those products at all," Low said.

Adam Goldfarb, a sophomore in media arts, said, "I think they should build the sports programs because they are responsible for the money, but maybe more should go to scholarships and to help academic programs. But sports are important and deserve a cut."

Arizona products usually generate about $500,000 annually in royalties.

Sales from the national championship logos actually reflect just three months of receipts in that time period because the quarter started in the beginning of March when Arizona was still entrenched in its historic run to the NCAA title.

"The third quarter is the one most heavily impacted by a basketball national championship," said Scott Ford, of Collegiate Licensing Co. out of Atlanta.

Some local vendors, though, feel sales have fallen short of expectations.

"Sales peaked, of course, right after they won," said Tom Hanson, manager of University Drug, 943 E. University Blvd. "But it declined from there. We still have requests but not to the same extent."

Low said there are many sales factors outside the Tucson market.

Outside the usual hats, sweatshirts, T-shirts and other clothing apparel, the UA also signed a deal with Coca-Cola for a national championship commemorative can, and produced and distributed a commemorative hard-bound book to chronicle Arizona's trip through "March Madness."

"The book really exceeded our expectations," Low said. "The national championship provides the opportunity to do some things during the year that will do wonders for the university."

Although the UA Office of Trademarks and Licensing has a policy against publicizing any sales projections, it seems expectations are high for future sales. Efforts are under way to compose a commemorative compact disc.

"There will be all sorts of stuff - real popular songs that have to do with the Wildcats, and some stuff that's commonly played in McKale Center, and some of the songs will have voice-overs from the championship," Low said.

The university receives 8.5 percent of the wholesale price of each item that bears a registered trademark, Ford said. The percentage increases to 10 percent for products that have "Final Four" or "National Championship" emblems - Arizona receives 8 percent, and 2 percent goes to the NCAA. On those emblems that do not include the NCAA trademark, the UA gets the full 10 percent.

"It means so much more than the dollars," Low said. "- the pride for alumni, the recruiting for the sports programs. These are things you can't put a price tag on."