By John Brown
Arizona Daily Wildcat April 1, 1998

Four indicted in bar brawl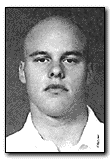 Wildcat File Photo
Arizona Daily Wildcat

Richard P. Dice


A Pima County Superior Court grand jury has indicted a UA football player and two former players on charges that they bashed an unconscious man during a late-night brawl outside The Buffet bar last semester.

Junior linebacker William W. "Scooter" Sprotte, 21, former defensive end John W. "Jimmy" Sprotte, 23, and former stand-out wide receiver Richard P. Dice, 23, each face one count of aggravated assault.

University of Arizona undeclared sophomore Victor E. Hershberger, 21, was also charged with aggravated assault stemming from the Dec. 6 fight outside the bar, 538 E. Ninth St.

According to Tucson police reports, the fight started after the victim and another man talked to two women inside the bar who were apparently with several current and former UA football players.

As the crowd left the bar near closing time, the victim, whose name was not available yesterday, was "jumped" by one man from the group, witnesses told police.

"The fight continued into the street, where the victim was knocked to the ground and all four men assaulted him while he was unconscious," Tucson police Sgt. Eugene Mejia said.

A witness told police that while the man was on the ground, a former UA wide receiver whose name was removed from police reports, walked up and allegedly kicked the man in the face, the reports stated.

When officers arrived at the bar shortly after 1 a.m., the victim was lying unconscious in the street and a man was attempting to revive him, reports stated.

Both men had cuts on their faces, and the unconscious man had an additional cut and swelling above his left eye, reports stated. The man regained consciousness at the scene and was taken to a local hospital.

Dice, Hershberger and the Sprotte brothers are scheduled to appear in court April 28.

William Sprotte, a political science student, has two years of eligibility remaining at the UA, while John Sprotte is eligible to enter this year's National Football League draft.

Dice finished his career at the UA in 1996 but knee injures prevented him from playing in the NFL.

UA head football coach Dick Tomey did not return phone calls yesterday.