By David J. Cieslak
Arizona Daily Wildcat April 1, 1998

ASUA makes final plans for Spring Fling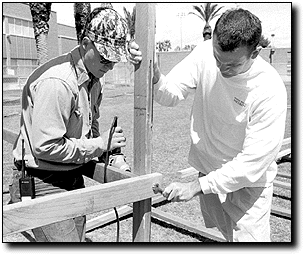 Kristy Mangos
Arizona Daily Wildcat

Byron Rovey, agriculture freshman and assistant director of physical resources for Spring Fling, works with Bret Seeley, finance junior and field supervisor, to finish constructing booths for the weekend's festivities. Spring Fling, which starts tomorrow, is the largest student-run carnival in the United States.


ASUA is making final preparations for tomorrow's kick off of its annual carnival, Spring Fling, as organizers manage a $25,000 budget cut expected to eliminate the carnival's record of debt.

For the past eight years Spring Fling has lost money, forcing the Associated Students to bail the program out of debt - last year to the tune of $4,000.

This year, under executive director Berry Melfy's supervision, the carnival's operating budget has been cut to $165,000, down from last year's $190,000 spending limit.

Melfy said that while community support is necessary for Spring Fling's success, she would like to give something back to students at the University of Arizona.

"I'm bringing profit back to the students, and Spring Fling back to the community," said Melfy, an economics and public administration senior.

Melfy is also trying to bring revenue back to UA clubs and organizations. Many will sell everything from Iranian food to temporary tattoos at Spring Fling, billed as the largest student-run carnival in the United States.

At last year's event, clubs and organizations made $63,719 in gross profit, but Melfy said depending on weather, profits could exceed $80,000 this year.

Other Pacific 10 Conference colleges have similar events, but the amount of money spent and earned is nowhere close to Spring Fling's expenses and profits.

This weekend, Arizona State University will hold its second-annual Mardi Gras, an event featuring chili cookoffs, talent shows and carnival attractions.

ASU's student government spends $3,000 on its Mardi Gras, and clubs and organizations benefit slightly from sales, said Katherine Manke, assistant director of the event.

ASUA accountant Gail Tanner said Spring Fling was originally set up as a fund-raiser for clubs and organizations.

But some people have criticized ASUA for not canceling Spring Fling and donating its budget to clubs and organizations, especially since some groups make little money. Kappa Alpha Theta sorority made $13.86 last year from the event.

Greek involvement in Spring Fling booth operations is still high, with many fraternities and sororities joining together for the four-day event.

Delta Delta Delta sorority has joined forces with Dirtbag's, 1800 E. Speedway Blvd., to sell "Dirtfries." While the sorority hopes to profit from the event, at least half of the proceeds will go to benefit Nate Goldwater, a UA student in need of a liver transplant, said Denise Flachsbart, vice president of administration for the sorority.

Flachsbart said at least 40 percent of other Greek houses are also donating a portion of their proceeds to Goldwater's fund, and after Spring Fling, her sorority will vote on whether all of the proceeds can be given to Goldwater.

She said the event also raises awareness and publicity for the Greek community.

"It keeps our name out there and helps to get Greek spirits up," said Flachsbart, a marketing and business management junior.

Spring Fling runs tomorrow from 4 p.m. to midnight with wristband day. It is traditionally the event's most profitable day, barring weather problems like last year. Wristbands cost $18 at the gate or $15 at Fry's Food and Drug stores and give the wearer access to the carnival and unlimited rides.

Spring Fling is open Friday from 4 p.m. to midnight, Saturday from noon to midnight and Sunday from noon to 6 p.m. Admission is $5 for adults, $4 with student ID and $4 in advance at Fry's stores until tomorrow.