By Susan Carroll
Arizona Daily Wildcat April 2, 1998

Regents expected to postpone setting tuition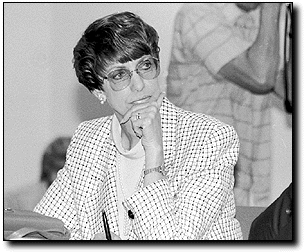 Wildcat File Photo
Arizona Daily Wildcat

Regent Judy Gignac backs a 5 percent increase in Arizona university tuitions.


The Arizona Board of Regents today will postpone setting tuition or risk breaking board policy by blindly voting without the state Legislature's budget in hand, one regent said yesterday.

"It's a disadvantage to set tuition now because the Legislature could look at that and appropriate less - it takes them off the hook," Regent Hank Amos said. "If we set tuition now, we'd probably have to set it higher."

The Legislature normally allocates funding to the three state universities in March, but K-12 education funding debates have delayed the process this year.

Although the board of regents enter today's meeting saddled with the Amos Tuition Setting Process, a policy prohibiting a vote on tuition without legislative appropriation results, the item remains on the agenda, Amos said.

"The board approved a process last year that says we have to find out from the Legislature first," he said. "I doubt the board would break that new policy now."

Regent Judy Gignac, who said she wants to set tuition today, added that she backs a 5 percent increase - about $52 more per semester for in-state University of Arizona students and $218 for those out-of-state. This year, in-state tuition is $1,030 per semester, and out-of-state is $4,356.

"My feeling is that we need to go ahead and set tuition rates, but I realize my feeling is the minority," Gignac said.

She said the budget back-up is "an anomaly in the legislative process."

UA President Peter Likins last week requested a 5 percent tuition hike at a statewide tuition teleconference. Half of his suggested increase would cover the cost of inflation, 1 percent would go toward improving technology and the remaining 1.5 percent would be earmarked for student financial aid.

"What we've all been talking about here is how the Legislature would behave with the knowledge of the amount of tuition increase," Likins said yesterday. "If I just try to read the tea leaves, I would say the regents would be reluctant to jump into a tuition increase."

If the board of regents does not vote today on tuition rates, it will finish the matter in an unscheduled teleconference after the Legislature produces a budget, or wait until its next meeting, May 21 and 22, Gignac said.

"My feeling is that this is a lose-lose situation," Gignac said. "To make students wait a couple weeks would be inappropriate."

Kevin Haney, a computer science graduate student, said the timing of the vote and the increase amount are not issues for him.

"It's probably inevitable that they're going to increase it," Haney said. "It's not so much what the amount is - what matters to me is how the money is spent."

The board of regents convene in the Memorial Student Union Rincon Room today at 10 a.m. The two-day meeting continues at the UA's Arizona International Campus tomorrow starting at 9 a.m.