By Craig Anderson
Arizona Daily Wildcat April 2, 1998

Board votes today on residence hall rate increase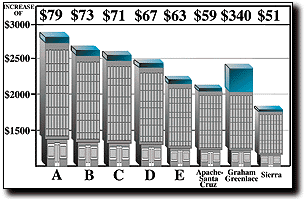 Arizona Daily Wildcat

Group A: Arizona-Sonora, Babcock (single), Corleone (one-bedroom), Coronado, La Paz Group B: Kaibab-Huachuca, Manzanita-Mojave, Maricopa Group C: Cochise, Gila and Yuma Group D: Coconino, Navajo-Pinal, Yavapai Group E: Babcock (double), Corleone (two-bedroom), Hopi


Students returning to residence halls in the fall could pay as much as $340 more next year if the Arizona Board of Regents approves a UA-proposed rate increase today.

While most hall residents will pay $51 to $79 more, those returning to Graham-Greenlee Hall may have to fork over an additional $340 because of room, hall and bathrooms renovations, said James Van Arsdel, director of the University of Arizona's Department of Residence Life.

The proposal, recommended by the UA's Residence Hall Association, would amount to an average 3.71 percent increase in residence hall rates. Arizona State University requested a 2.87 percent increase - a flat $75-per-resident hike - and Northern Arizona University requested a 2.94 percent increase.

The regents are expected to vote on the increases today at their meeting, which starts at 10 a.m. in the Memorial Student Union Rincon Room.

Although the UA has a history of requesting the highest rate increase, Van Arsdel said comparing requests is a "slippery issue" because each Arizona university has different revenue sources and expenses.

Van Arsdel said Residence Life plans to use the extra money to increase each resident assistant's All Aboard meal plan allotment to $625 per semester - up $25 from the current rate. The increase will also go to hire an additional part-time employee to coordinate recycling efforts in the halls and three more faculty fellows - professors who hold office hours in the dorms to interact with residents, he said.

Van Arsdel said RHA, the student-elected body that represents residents, took pains to come up with the most fair and reasonable rate-increase proposal. It discussed different options with residents before making a decision, he said.

"The unanimous voice among students is, 'Don't raise rates, because you will limit access,'" Van Arsdel said. "That's a serious argument.

"On the other hand, students want improvements and that requires an increase," he added.

RHA President Matt Everitt said annual rate increases are routine, but he is concerned about this year's vote because the board did not approve the UA's proposal last year.

"Last year, they didn't even give Residence Life enough money to pay for mandatory raises imposed by the Legislature," said Everitt, an economics junior. "We had to cut some services as a result."

Last year, the board set aside each university's individual proposal and approved a collective 2 percent rate increase.

"Last year was the first time the Board of Regents lumped all rate increases together," Van Arsdel said. "But nobody asked, 'What do you hope to accomplish with your rate increases?'"

Wendell Brierly, ASU Residential Life's senior business operations manager, said his goal for the next fiscal year is to maintain the status quo.

His organization made the lowest rate-increase recommendation this year, but Brierly said the need for renovations and improvements will probably force ASU to ask for a larger increase in the future.

Regents President Rudy Campbell said yesterday that the board intends to honor each university's proposal this year.

"If they get an agreement out of the people in the halls, we'll go with that," Campbell said.

Regent Judy Gignac said she does not predict another across-the-board increase this year.

"I'll try to look at each different facility and what their needs are," she said. "I'm also going to ask where the money is going to go."

Of several randomly questioned hall residents, not one intends to continue living in a residence hall next fall. But cost, they said, was not a major factor in their decisions.

So far, about 30 percent of the 4,600 current residents have applied to return for the 1998-99 school year, said Charlotte Oliver, senior program coordinator for the UA Department of Residence Life.

She said about three-fourths of all students living in residence halls this year are freshmen.

Everitt said next year's residence hall rates are now out of the RHA's hands.

"We've made our proposal," he said. "Now it's strictly the board's decision to make."