By Dave Paiz
Arizona Daily Wildcat April 2, 1998

UA professor says Clovis sites need better protection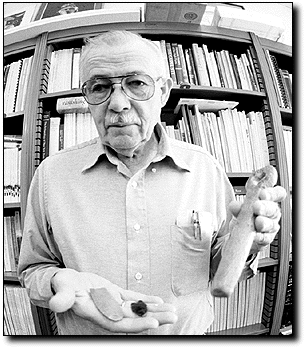 Dan Hoffman
Arizona Daily Wildcat

Professor C. Vance Haynes displays two Clovis spear points and a shaft wrench made of mammoth bone discovered in Southern Arizona's San Pedro River Valley. The wrench was used by ancient people to straighten spear shafts as they were constructed.


Damage caused by vandalism and erosion threaten to erase one of North America's most unique archaeological sites unless steps are taken to protect it from harm.

UA geoarchaeologist C. Vance Haynes said he has a personal interest in the Clovis site and wants to ensure it is preserved for future generations.

Murray Springs is one of four Clovis sites near Sierra Vista. Collectively, they represent the highest concentration of Clovis sites in North America.

"These Clovis sites are of international importance - they're world known," Haynes said.

The Clovis people were North America's earliest inhabitants. They arrived in Southern Arizona's San Pedro River Valley 13,000 years ago.

They were named after a site near the city in New Mexico where their distinctive stone spear points were first discovered.

Aided by a grant from the National Geographic Society, Haynes directed excavations at Murray Springs from 1966 to 1971. When the dust settled, his team had uncovered two kill sites, a nearby hunters' camp and 16 Clovis points.

The Murray Springs discoveries were made possible by an erosion process that exposed a clear geologic timeline of the past 40,000 years.

A drainage ditch now diverts most of the water away from the sites. Haynes said this is only a temporary solution, since erosion will eventually begin erasing the sites unless something is done to keep water permanently away from them.

Haynes said that in 1990 a volunteer group called the Friends of the San Pedro spent $5,000 to improve access to Murray Springs. He said that since that time, no further improvements have been made to the site.

The federal Bureau of Land Management took over the Murray Springs and Lehner Ranch sites in 1988 as part of the newly designated San Pedro National Conservation Area.

Last spring, the Tucson-based Southwest Center for Biological Diversity criticized the bureau for allegedly failing to prevent cattle from trampling over archaeological sites within the conservation area.

Jane Pike Childress, the bureau's archaeologist assigned to the sites, said the damage caused by cows was minimal compared to that caused by people.

Childress said fences designed to restrict the movement of cattle are constantly being cut by people trying to gain easy access to the conservation area.

The signs marking the site have been destroyed by people who like using them for target practice, but Childress said the bureau has been reluctant to replace the signs for fear they will only be shot out again.

Haynes and Childress agreed the current lack of educational signs or displays leaves no way for people to understand what they are looking at when they view the sites.

To remedy the situation, Childress has received a $13,000 grant from the bureau to pay for trails, signs and an interpretive kiosk near the site. These improvements should be in place by summer's end, Childress said.

She said the bureau's problems stemmed from a lack of money and personnel.

"There wasn't even an archaeologist down here for five years," Childress said. "I'm having to regain territory around the community."

Ideally, Haynes said he wants to see the site recreated as it was when he first excavated it as part of an educational park.

"Visitors could walk into the site as it would look like if the archaeologists had just left for lunch," he said.

Haynes said his plans for the site include a system of reinforced drainage canals that would keep water from further eroding it.

Haynes and Childress both doubted that the hundreds of thousands of dollars needed for the project could be solely obtained from the government.

Haynes said the bureau's joint effort with a non-profit group in creating the Empire-Cienega Resource Conservation Area south of Tucson could serve as the model for a future Clovis site preservation program.

"They can do this," Haynes said. "The critical thing is that it be done properly."