By Rachel Carasso
Arizona Daily Wildcat April 2, 1998

Architecture coughs up $65,000 to remodel building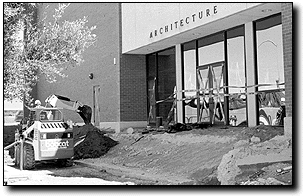 Leigh-Anne Brown
Arizona Daily Wildcat

Jim Gill digs a path for a wheelchair ramp with his tractor in front of the Architecture building. The building's remodeling will include painting, refurbishing and technological advances, as well as handicap accessibility.


UA's Fine Arts Complex is getting a makeover to render it more accessible to people with disabilities.

The College of Architecture is spending $65,000 to build wheelchair-accessible ramps. Until now, people in wheelchairs could only get in to the Architecture building through the east entrance.

The Americans with Disabilities Act of 1991 prompted the University of Arizona to remodel and bring the building up to code.

"The construction is part of the continuation of a master plan for the buildings in the complex to be connected on a walkway that's all one level and will be accessible from Speedway Boulevard," said George McFerron, the UA's ADA facilities coordinator.

An outdoor Urban Oasis, which is under construction in front of the Marroney Theater, will be wheelchair friendly and display students' art. Benches will be placed there for students to relax on between classes.

Mark Perry, architecture facilities supervisor, said the building needed renovation.

"When the building was built in 1966, there wasn't even a women's restroom because women weren't considered architects," he said.

Although that issue has been addressed, the Architecture building will face more construction in the future.

Room 103, the building's largest lecture hall, will be one of the most technologically modern classrooms on campus after this summer's renovation. Each seat in the room will have its own Internet connection so students and professors can communicate through computers during class, Perry said.

At the moment, the building is being painted and refurbished for the National Architecture Accreditation Committee's visit to the UA April 16. The NAAC evaluates the architecture program every five years and the university must receive accreditation to maintain its 5-year professional architecture program.

The painting process, combined with the traffic rerouted due to ramp construction, has left some students frazzled.

"I know some people who have accidentally leaned up against the painted walls," said Alicia Barnes, a second-year architecture student. "But the construction hasn't been a real problem. I know that my whole career it is going to be like this."

In three to five years an addition may be built on to the back of the building that will house graduate programs in landscape architecture and planning, which are now located off site, Perry said.

"It's nice to see they're finally doing something," said Bryan Bethem, a second-year architecture student. "Functionally, the building is horrible, and it's an embarrassment that our program is so good but our building is so poor."