Staff Reports
Arizona Daily Wildcat April 2, 1998

Calender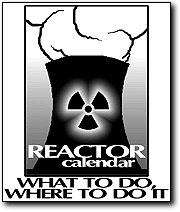 Thursday, April 2
Bid farewell to the rainy Tucson winter at Spring Fling '98 on the McKale lawn. Tonight is Wristband Night, which means all the rides are free with the purchase of a $15 wristband at Fry's supermarkets (or $18 at the gate). Friday is the KRQ Dance Party and one of Tucson's newest bands, Pathos, will release its Still Life CD at the concert. Pathos, a hot new University of Arizona pop band, will perform at 7:00 p.m. Saturday will feature a special Kids' Expo, and Sunday is Dollar Daze. Phone 621-5610.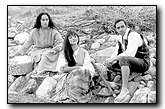 Arizona Daily Wildcat
Cast of "Fuente Ovejuna"
The Borderlands Theater and the Pima Community College Theater Production are presenting the play "Fuente Ovejuna." The story is about 15th-century Spanish villagers who, incensed by exploitation of peasants and violence toward women, go on a rampage and kill their feudal overlord. The show previews tonight at 8 at the PCC Center for the Arts Proscenium Theatre, 2202 W. Anklam Road, and continues through April 11. Tickets are $8, students $6. Phone 322-9021.
Don't miss the irony -filled monologue of "America's foremost sit-down comedian," Spalding Gray. Tonight he will be performing his latest work, "It's a Slippery Slope" at Gallagher Theatre at 7:30. General admission tickets are $25, half price for children and students with ID. Phone 621-3364.
Ivan Rijos, classical guitarist, will be strumming his stuff at St. Philip's in the Hills Episcopal Church, 4440 N. Campbell, at 7:30 p.m. Highlights include music by J.S. Bach and Dionisio Aguado, as well as Puerto Rican dances and Neapolitan songs. Tickets are $10, $8 for students, and are available at Hear's Music and Guitars, Etc. For more information, phone 296-9427.
Friday, April 3
Club Congress will host the Southern Arizona AIDS Benefit with Trunk Federation, James Dead, Hobart, How to Build a Rocket Ship and the Cassadines, with mistress of ceremonies Ms. Aja Simone. Show up at 311 E. Congress and rock out for a good cause. Admission is $5, and all proceeds to benefit the Southern Arizona AIDS Foundation. Phone 622-8848.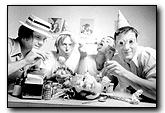 Photo courtesy of Alias Records
Arizona Daily Wildcat
Trunk Federation
The Iguanas will slither into the Rialto Theatre this evening. The opening band will be the Fender Benders. Drive carefully to 318 E. Congress. Showtime is 9, and tickets are $8 in advance, $9 at the door. Phone 624-5600 x506.
Saturday, April 4
Today and tomorrow, ArtFest of Tucson '98 takes take place at Rillito Park (River Road and First Avenue), from 10 to 6 p.m. ArtFest features over 100 selected fine art displays, international foods, live entertainment and even an area for the kiddies. Admission and parking are free. You will also be doing a good deed, as a portion of the festival proceeds benefits the American Cancer Society Kids Camp. Phone 1-888-ART-FEST.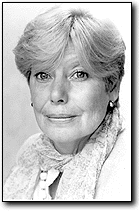 Photo courtesy of Alias Records
Arizona Daily Wildcat
Barbara Kinghorn
In a one-woman show titled "Shakespeare and Me," Barbara Kinghorn uses Shakespearean speeches to share her South African childhood, her champion dancing career and her multiple roles as wife, mother, divorcÈeacute;e and award-winning actress. This must-see show will be at the Marroney Theatre on campus. Tickets are $15 general, $13 seniors and UA employees, $11 students. 7:30 p.m. Phone 621-1162.
Sunday, April 5
The AZ Repertory Theatre will present a preview of Shakespeare's "Much Ado About Nothing." This is not the version with Keanu Reeves, but it should be good for a few laughs regardless. Be at the Laboratory Theatre at 1:30 p.m. Tickets are $7.
Even if you cannot pronounce their name, you can enjoy the vibrant tribal energy of "Los Muñequitos de Matanzas" at Centennial Hall. This "legendary ensemble of dancers, drummers and singers" uses ancient spiritual West African themes to provide you with quite a show. Phone 621-3341 for tickets and times.
Tuesday, April 7
Join the fun of the oxymoronic band Blonde Redhead at Press 101, 101 W. Fifth St. This funky threesome combines the sounds of soca, jazz, and new wave to deliver music that apparently makes one think of "fire and gears, sparklers ... constellations." They will entertain you along with Amor-belhom Duo. Admission is $5, showtime is 9:00 p.m.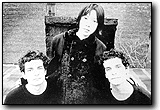 Photo courtesy of Touch and Go Records
Arizona Daily Wildcat
Blonde Redhead
Wednesday, April 8
The Jose Galvez Gallery/Mexican American Cultural Arts Center, 743 N. Fourth Ave., will host an exhibition for Roberto "Tito" Delgado, an L.A. mural artist whose creativity is spurred by social and cultural themes. The exhibition includes Delgado's works on paper, canvas and mosaic. Show runs through May 16. Phone 624-6878 for gallery times.