By Biray Alsac
Arizona Daily Wildcat April 2, 1998

The spring in their steps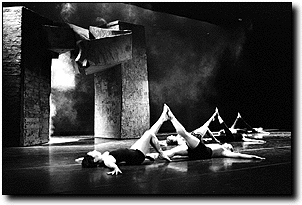 Brian D. Rothschild
Arizona Daily Wildcat

UA dance students rehearsed Tuesday evening for the Spring Dance Concert, "Dances on the Hardwood.š The show will also feature a giant sculpture created by fine arts student Ted Springer.


Although Spring Fling is likely to steal a lot of this weekend's attention, the UA Spring Dance Concert should draw a fair amount of attention of its own. The concert, titled "Dances on the Hardwood," showcases faculty choreography, including that of guest artist Walter Kennedy.

The performance will have something that everyone can enjoy. It encompasses a variety of dancing styles: ballet, jazz, modern, and tap. Jory Hancock, head of the dance division, believes there is no excuse for missing the show.

"Our concert is only Thursday and Friday, and Spring Fling goes through to the weekend," he says, going on to guarantee that the audience "will be amazed at the choreography and talent to grace the stage."

The show opens up with a new piece called Concrete Motion, by choreographer Susan Quinn. The dance features fine arts student Ted Springer's enormous sculpture, which the dancers respond to and interact with.

Nina Janik presents her dramatic piece titled Suenos Encadenados (Chained Dreams), a colorful dance accompanied by Spanish songs and vibrant costumes, while Amy Ernst and Walter Kennedy dance together to the third movement of Kennedy's Fault Boundaries.

Ernst's Bernstein's Reply and graduate student Chi-Kuang Cheng's Pinto Mix are also featured in this performance.

In addition, a brand new piece called Walls, choreographed by Jory Hancock and Melissa Lowe, is making its debut. This dance is set to a score by Howard Hansen and includes challenging and dynamic movements for the dancers. This powerful piece represents the psychological restraints people live with and the artificial walls they build around themselves.

Finally, the concert closes with Michael Williams' work, Between the Lines, a lively jazz dance to the vocals of Harry Connick Jr.

"Dances on the Hardwood" will be at Centennial Hall today and tomorrow at 7:30 p.m. Tickets for general admission are $10, $7 for students. Call Centennial Hall, 621-3341, for additional information.