By Annie Holub
Arizona Daily Wildcat April 2, 1998

A Journey to the East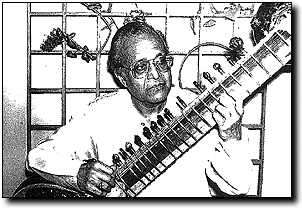 Arizona Daily Wildcat

Pundit Manilal Nag, a sitar player born in West Bengal, will give a free recital in the Social Sciences Auditorium Sunday at 5 p.m. The show is sponsored by SPICMACAY, a campus group that promotes Indian classical music and culture.


SPICMACAY, the Society for the Promotion of Indian Classical Music And Culture Among Youth, is the UA chapter of a non-profit national organization that lives up to its name in the best way possible - by bringing renown Indian musicians to the university to perform and discuss their careers and work.

"Every year we have a concert," said Karnum Shashidhar of SPICMACAY, "we try to do it every semester if we can."

SPICMACAY "has had three dance performances and three vocal performances; this time, we decided to go with sitar," said Farha Vasanwala, the president of the club. "We haven't had a sitar concert."

As a result, Pundit Manilal Nag, a sitar player born in West Bengal, will give a free recital in the Social Sciences Auditorium Sunday at 5 p.m. Nag studied music under his father, sitar master Sangeetacharya Gokul Nag, from the age of 6, and is one of the most important living musicians of the North Indian Vishnupur school of sitar playing. He has been a fixture in the world of Indian classical music for decades, beginning with his first performance on the national All-India Radio in 1953 when he was still in his teens.

The sitar is a stringed instrument that evolved from a combination of Asian lutes and other similar indigenous Indian instruments sometime around the 18th century. It can have varied numbers of strings, which are plucked, and has moveable frets. Two gourds are attached, one on each end, to provide the sitar's resonating sound. Sitars are usually accompanied by a tabla, which is a pair of drums. It is considered classical, and is possibly the most well-known Indian instrument, introduced into general consciousness when the Beatles utilized its sound.

Nag has performed in numerous music festivals in India, and has toured Europe with the Indian Cultural Group. He has played in Australia, Bangladesh, Nepal, Japan and Australia, and has visited the United States many times. He has released three recordings on Raga Records, a label that puts out the work of North Indian Classical artists.

According to Shashidar, Nag is "well known in Indian circles," and his recital Sunday is one of many that SPICMACAY has held. Past performances include Guru Kelucharan Mohapatar and his troupe of Oddissi dancers in 1996 and Sangeet Martand Pundit Jasraj, a North Indian classical vocalist, in June. SPICMACAY's hope is that the impact of the concerts is positive in that they contribute to cultural diversity within the university community.

SPICMACAY depends on university and corporate sponsorship, as well as contributions, to promote Indian classical music in Tucson. The concerts are put on with the help of volunteers, and with the help of the artists themselves.

Pundit Manilal Nag's recital promises to be educational as well as entertaining: "He's really good," assured Vasanwala.