By Joel Flom
Arizona Daily Wildcat April 2, 1998

Smith focusing strictly on QB duties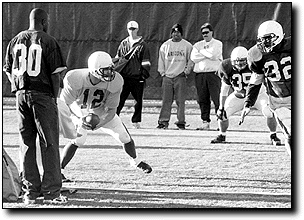 Nicholas Valenzuela
Arizona Daily Wildcat
UA quarterback Keith Smith (12) takes a snap during yesterday morning's practice. Smith, who saw time as wide receiver and tailback last season, is focusing all of his efforts on the quarterback position this spring.

Arizona's version of 'Slash' is a thing of the past.
Sophomore Keith Smith did his best impersonation of the Pittsburgh Steelers' Kordell Stewart last season for the Wildcat football team, logging in time at quarterback, tailback and wide receiver. During the team's spring workouts, however, Smith is focusing all his attention on his original position - quarterback.
"It's done," Smith said of the days of rotating positions. "(The coaches) know that I don't like those positions."
Smith rushed for 156 yards and threw for 744 yards last season. He also had four receptions for 45 yards.
UA offensive coordinator Dino Babers said Smith's duties at wide receiver are no longer needed because of improvements among returning wideouts.
Smith admitted that he never felt comfortable playing away from the position he has played throughout his entire football career.
"I was not happy to be put in the slot position," Smith said. "It was hard getting used to. I felt like I didn't get in the flow of the game. I never really knew what I was doing. The guys were like, 'Keith, this is where you go on this play.'"
Smith is using spring ball, which consists of three practice sessions each week, to focus on the fundamentals of quarterback, the position where he started last season until an injury against UCLA knocked him out of the lineup.
"I am just trying to do my best on the little things," Smith said. "I am trying to pick up on defenses, how they align themselves."
"He is having a good spring," Babers said. "He is showing a real knowledge of the offense."
Smith has also been putting in extra time after practice. Sophomore wide receiver Brad Brennan and Smith were the last people - players or coaches - to leave the practice field yesterday morning. Smith looked to be in sync with his receiver, as they connected repeatedly on fade routes and bullet passes.
Smith may be putting the extra work in now that he has to split snaps with redshirt freshman Ortege Jenkins, who is back from his stint with the basketball team.
"Right now, O.J. and I are 50-50 in practice," Smith said. "We are both doing well. (Sharing snaps) will really help us in the long run."
Early in the morning
Before most students have even considered getting out of bed, the football team is already going full speed at practice.
Practices, which began Feb. 28 and conclude Saturday, start at 6:30 a.m.
The players, however, do not seem to mind.
"It's just rolling out of bed, tight, and then getting it going," redshirt freshman defensive tackle Idris Haroon said. "It's nice, though, because then you are done with your whole day physically."
"It's not too bad," Smith added. "You get your day done with."
Plus, the morning workouts keep the players out of the hot afternoon sun. Mother nature, however, was not cooperative when the spring session started.
"Before, we would come here and there would be frost on the ground," Smith said.
Haroon on the move
Haroon, the former defensive end who saw playing time last season because of injuries to departing seniors Mike Szlauko, Joe Salave'a and Jimmy Sprotte, has spent spring football adjusting to his new position, defensive tackle.
"They moved me inside," Haroon said. "I enjoy it. I have to put on a little weight, though."
The 6-foot-2-inch, 245-pound Houston native has worked on adding size by lifting weights and imbibing a steady flow of shakes and Powerbars.
Despite the fact that coaches want him to add about 10 pounds, increasing his size is not their primary concern.
"(Coach Rich Ellerson) is all about speed," Haroon said.
In addition to learning a new position, Haroon also shares in the responsibility of helping lead a defensive unit that suffered the departure of six seniors.
"It's real tough (replacing those guys)," Haroon said. "Those guys were big-time players."