By Becky Bowers
Arizona Daily Wildcat April 2, 1998

Chasing dreams: Former UA volleyball player tries out life as national team member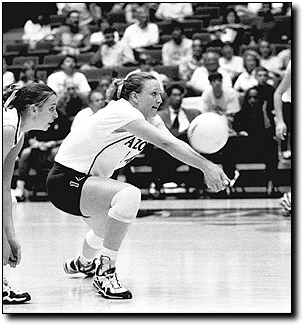 Wildcat File Photo
Arizona Daily Wildcat
Carrie Penfield bumps the ball at a game earlier this season. Penfield won a spot on the U.S. National Olympic Team in Colorado Springs, Colo., where she has been since Jan. 4.

When Carrie Penfield made a trip to Colorado Springs as a member of the junior national team in high school, she might not have imagined her training experience was merely foreshadowing her future career.
Up until November, Penfield, an outside hitter who led the Pacific 10 Conference in aces (0.41 a game) last season as a senior, was preparing for her last few games as an NCAA athlete and final semester as a college student.
Majoring in family studies, she had 12 units left before her scheduled graduation date in May when UA head coach Dave Rubio suggested she try out for the U.S. National Team.
"I always felt Carrie wasn't finished growing as a player," Rubio said. "I wanted to give her every opportunity to fulfill her dreams.
"I felt she was one who really had the desire to try out and was good enough to be there."
Though Penfield had the desire to make the national team, she was not as confident as her coach that she would have a genuine shot.
"Being in the Pac-10 with so many exceptional players, I never really thought much about my personal chances of making the team," she said.
But she eventually decided to take the risk.
Besides, the trip to the open trials in Spokane, Wash., Dec. 20 would be covered by the UA. Plus, Rubio would be able to accompany her.
Penfield recalled the whirlwind week.
"I went home on the 16th, flew to Spokane on the 19th, tried out on the 20th and came back on the 21st. The next day, I got the call," she said.
The call was from U.S. head coach Mick Haley, telling her she was one of four women who earned a spot on the national team.
"I was apprehensive at first. I thought maybe I just wanted to finish school and be a normal person," Penfield said.
Coming from a close-knit family of seven children - Penfield is "tied for second-oldest" with her fraternal twin sister - she looked to her mom and dad for support.
"As a parent, you want to encourage your kids to follow their dreams," Penfield's mom Margaret said. "She always wanted to make the national team and when she did, we were very excited and wanted to support her."
Ultimately, Penfield concluded this was a chance she could not pass up.
"Once I found out that I could come back to school and it would still be covered (by scholarship), I figured this was a once-in-a-lifetime opportunity," she said.
So, on New Year's Eve, she headed to Tucson and packed her bags.
On Jan. 4, Penfield flew to the Olympic Training Center in Colorado Springs, Colo., and,
although she started 1998 somewhat differently than she might have planned, Penfield had very little problem adjusting to the unfamiliar environment.
"I wasn't totally alone because my cousin lives here and my sister (Janette) goes to Colorado State, which is only a couple of hours away," Penfield said.
Now her days are spent training for national and international matches, lifting weights and receiving treatment for all the injured joints and sore muscles.
When she is not working on her speed or jump skills, Penfield inches closer to completing her college education by taking six units of correspondence courses.
After all, Penfield pointed out that her father will "forever remind me that I haven't finished school yet."
Right now though, volleyball is her top priority.
Out of 22 women, only 16 travel to tournaments. In late January, Penfield made that traveling squad. She spent seven days in the Dominican Republic, helping the U.S. win 34 of 37 games against the country's national team.
Later his month, the team is touring the United States with the Russian National Team. The 16 players who will participate, however, is not determined until just prior to the trip.
Because there are no guarantees, Penfield said she knows she must give 100 percent at all times in order to compete for one of the spots.
However, Penfield does not see her teammates as rivals.
"It's a good group of girls from all different schools. There's no dominating program," the Thousand Oaks, Calif., native said.
Rubio said representing your country is a lifelong dream of any athlete. He added that it is particularly sweet for Penfield because her achievements were often "overshadowed by the leaders of the conference."
Penfield was selected to the All-Pac-10 team but never held an All-American position.
As a result, she said she "(doesn't) really feel like I have reached my fullest potential and I wouldn't be able to finish without knowing I did that."
Now she looks to her national team membership as a means to pursuing even greater goals.
She said she would love to play professionally in Europe someday and of course hopes she can continue representing the United States in international competition.
With the 2000 Olympic Summer Games still over two years away, one wonders if Penfield sees Olympic rings in her future.
"I take it week by week," she said. "Right now, being here is enough. I just want to move forward to reach my potential and we'll see what happens."
Rubio summed up his feelings about Penfield's accomplishment with these words: "If anyone deserves this, it's Carrie. Being a member of the U.S. team says a lot about her skills and her desire. We're very proud of her."
Carrie Penfield
(outside hitter)
1993 Member of the USA Youth National Team

1995 Tried out for the Sports Festival Team

1995 All-Tournament Team at the Hotel Park Invitational

1996 Led the team with .22 service aces a game.

1997 All-Pacific-10 Conference Team

1997 Tried out for the World University Games Team