By Dan Rosen
Arizona Daily Wildcat April 2, 1998

Laxcats looking to defeat top-ranked team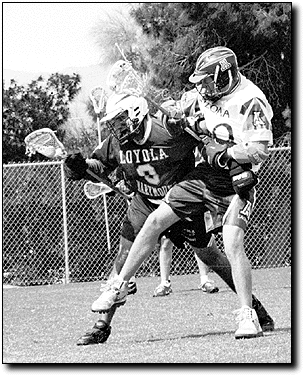 Brian Foster
Arizona Daily Wildcat

Senior midfielder Max Webber demonstrates that he is not just an offensive weapon but a complete player by shutting down a Loyola Marymount player on defense. The Laxcats travel to Utah this weekend to play BYU.


It's going to be a cat fight in Provo, Utah, tomorrow, literally.

The Laxcats (6-5, 3-1) are heading there for the first time in the program's history to take on the Brigham Young Cougars.

"We are running on a high now and I know that we are ready for this one," Laxcat senior defenseman Dave Ames said.

BYU (4-3) has been ranked No. 1 nationally in the USILA poll all season and has defeated teams by scores of 21-1 and 26-3 this season. All three of the Cougars' losses have come against varsity programs such as Colorado College (Division III), Navy (J.V.) and Maryland Lacrosse Club.

"We need to control the ball again," Laxcat head coach Mickey-Miles Felton said. "We don't want to go back and forth with them. They are a team like Whittier and we all know about them."

The Laxcats faced-off against the Cougars twice last season. They beat them at home 14-9 during the regular season and were blown out in the semifinals of the playoffs 22-8.

The Wildcats are coming off a tremendous weekend in which they enhanced their standing nationally and put themselves in a good position for the playoffs.

"We played a hell of a solid weekend of lacrosse. I think it was the best I've seen from this program in a long time," Ames said.

With the playoffs closing in, the Laxcats are looking to make a serious run for the rest of the season.

"BYU is a well-rounded team but nobody is conceding this one and everybody knows how important it is for us," junior midfielder Dan McCarthy said.