By Michael Isaac Jacobs
Arizona Daily Wildcat April 2, 1998

Women's tennis team enters fierce waters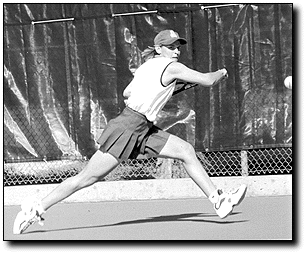 Leigh-Anne Brown
Arizona Daily Wildcat

Vicky Maes reaches for a ball in a match earlier this season. The Wildcats face No. 28 New Mexico at the Robson Tennis Center today at 1 p.m.


Over the next five weeks, UA's women's tennis team will chart a course for the Pacific 10 Championships against four top 10 teams and No. 28 New Mexico.

The Lobos grace Robson Tennis Center today for a 1 p.m. match against No. 19 Arizona.

"The team knows what's in front of them, and the schedule is a challenge," UA head coach Stephanie London said. "It's going to be tough, but we'll see if we can rise to the challenge."

New Mexico arrives with a 14-2 overall record and is 3-1 in the Western Athletic Conference.

"Right now, we're focused on the match at hand, today," junior Monique Allegre said. "We respect the fact that New Mexico is going to be a tough team, but we want to gain momentum for Sunday's match against Texas."

Allegre said the 8-6 Wildcats are looking forward to making a statement over the next five weeks.

"Tennis is really fun right now, because we're No. 19 right now, but we know we should be higher, and have a chance to improve over the next five games," she said.

The Wildcats have fallen in the overall rankings from No. 16, but dominated No. 39 Washington and Oregon last week at home with 8-1 and 6-0 scores respectively.

"When we got back from break we came back really strong, and our practices have been good, so we should be ready," London said.

Although the Pac-10 contains the toughest competition in the country, Arizona has compiled a respectable 5-5 record.

And, after New Mexico, the Wildcats have two remaining home dates with a pair of Pac-10 foes- Washington and Arizona State.

"The people that rise to the top are those that peak towards the end of the season and do what it takes to win," London said. "A lot of the players were already competitive before they came in, but at the same time, they were new and were learning a new sense of pride and history."