By David J. Cieslak
Arizona Daily Wildcat April 3, 1998

Spring Fling in full swing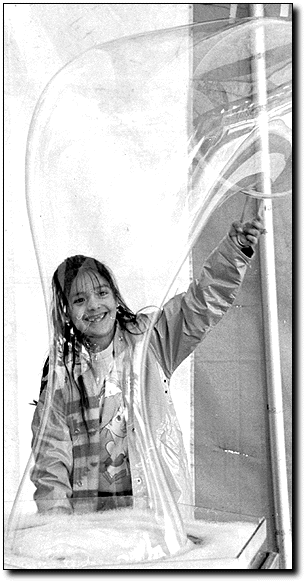 Brian Foster
Arizona Daily Wildcat

Festival-goer Christine Test displays her skills with bubbles yesterday at the opening day of Spring Fling. New to the student-run carnival this year is the Kids' Expo, which features all sorts of fun and games for youngsters.


Oversized bubbles flying through the air and a snake slithering on a table delighted children of all ages yesterday as ASUA's Spring Fling introduced its first Kids' Expo, just one attraction at the first day of the annual event.

Kids' Expo, a mix of science and adventure, was designed by the Associated Students to draw everyone from Tucson toddlers to high schoolers into the University of Arizona's four day student-run carnival. By 7:30 p.m. yesterday, the Fling had drawn 3,116 visitors.

After taking his hands off a clear, electricity-producing ball that made his hair stand up, Taylor Domet, a Sahuaro High School sophomore, said he liked the Spring Fling staff's new ideas.

"It gives people a better chance to experience science and get kids into that stuff," Domet said.

On the less-educational side, screams emanated from one of the new rides, "Topspin," which took 36 brave souls at a time through twists and turns until all of them had lost their equilibrium - and possibly their lunch.

One survivor, Sasha Prokopchuk, was all smiles after leaving the ride and getting her feet back on the ground.

"It's the bomb," said Prokopchuk, a freshman at Tucson High School. "It's the best ride here - just look at it."

Although sunny skies prevailed yesterday, visitors were slipping and sliding through the remnants of Wednesday's rainstorm, and muddy footprints lined the paved streets as people made their ways to the various attractions.

Berry Melfy, Spring Fling's executive director, said workers were laying sand on the field to dry up the saturated grass, but the muddy mess didn't sway her hopes for the event to rake in plenty of people - and money.

"If the weather holds, it's set out to be the most profitable Spring Fling ever," said Melfy, an economics and public administration senior.

Carnival-goers can cash in their dollars for script, redeemable for ride admission and services offered by booths that more than 60 UA clubs and organizations are running.

Patrick Williams, ASUA's club relations director, said visitors can have a multicultural experience just by having a snack.

"We have some culture-specific and some common carnival food, which is designed to rot your teeth," said Williams, a communication and marketing senior.

The cultural foods Williams referred to come from booths like the Hellenic Students', which is selling gyros, or the India Club's, which is featuring Indian chicken.

The carnival continues tomorrow and runs throughout the weekend. Chantelle Brewer, Spring Fling's assistant executive director, said the gates will open at 10 a.m. Saturday morning exclusively for underprivileged children from UA's Camp Wildcat.

Brewer, a marketing junior, said the kids will stay and enjoy all the free rides they can handle, until the general population is allowed in at noon. The public will experience what she hopes will be a special day for Tucson locals as Kids' Expo shifts into high gear.

"We wanted to make Saturday a family event," Brewer said.

Spring Fling will be open tonight from 4 p.m. to midnight, tomorrow from noon to midnight, and Sunday - better known as Dollar Daze because admission and individual rides are $1 - from noon to 6 p.m.

Weather forecasts predict partly-cloudy skies, and highs in the mid 70s will prevail throughout the weekend, with the carnival barely escaping the scattered thunderstorms expected Monday.
Springfling Schedule
Local music groups will perform live at Spring Fling throughout the weekend, with special guest R&B group 112 performing tomorrow at 7 p.m.
Live music lasts all weekend, starting today at 5 p.m.
Today:
5 p.m.: One Blood

6 p.m.: Pathos

7 p.m.: KRQ-FM Dance Party
Saturday:
Noon: Folklorico Mexican Dancers

1 p.m.: Rising Star, Double Dutch

2 p.m.: Clove

3 p.m.: Equinox, B-Gonyx

4 p.m.: Bad News Blues

5 p.m.: Equinox

7 p.m.: 112
Sunday:
Noon: Mariachi Aztlan

1 p.m.: More Luck Than Buck

2 p.m.: Decades, Spring Fling Awards

3 p.m.: Bloo Lyte, Stars Ink

4 p.m.: Decades, Paul Almquist

5 p.m.: Bloo Lyte