By Susan Carroll
Arizona Daily Wildcat April 3, 1998

Regents' meeting fruitless in attempt to set tuition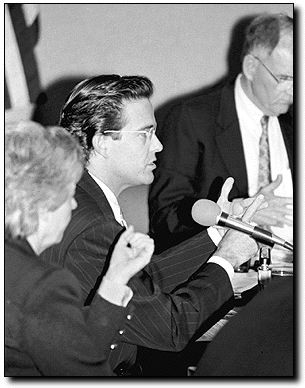 Matt Heistand
Arizona Daily Wildcat

Regent Hank Amos argues against immediately setting tuition for next fall while NAU President Clara Lovett and Regent Frank Besnette look on yesterday in the Memorial Student Union.


The Arizona Board of Regents squabbled over tuition hikes, tripped over policies and bad-mouthed the state Legislature yesterday in its fruitless attempt to set next year's tuition rates.

The Memorial Student Union Rincon Room took on what Regent Hank Amos called an "auction atmosphere" yesterday afternoon as regents retracted, substituted, reintroduced and finally defeated motions that would have set tuition for Arizona's three state universities.

"You folks that lost on the last vote are sitting there and whining," Regent Chris Herstam said after a vote to postpone setting tuition deadlocked at 4-4 and forced the board of regents to further hash out an appropriate increase.

Herstam said there was no reason to postpone the board of regent's vote unless it planned to plug holes in state appropriations with student tuition.

The state Legislature normally allocates funding to the three state universities in March, but the Legislature is backed up in capital finance debates and has not decided how much it will appropriate.

"I think our failure to convince the Legislature to fund enough money should not fall on the backs of students," Herstam said.

Amidst note-passing and whispering, the board of regents voted down three different increase recommendations - 5 percent, 4 percent and 2.5 percent tuition hikes - tying or falling one vote short each try.

With more than 80 onlookers witnessing the two-hour debate, the board of regents postponed the tuition vote until the it can hear from the Legislature. The board of regents vowed to set tuition no later than the week of April 20.

"I don't see any reason to make a decision when you don't have all the facts," Regent Don Ulrich said.

"It would be irresponsible to come through with a vote on tuition without information from the Legislature," Amos said. "We need to keep the pressure on them and not show them our cards."

Amos pushed for a 5 percent tuition increase, if the board of regents were to vote without the legislative information, as "insurance."

"I don't think it's going to affect the Legislature if we set tuition today," said Regents President Rudy Campbell.

Regent John Munger said setting an increase yesterday would have been pure guess work. "We don't have any priorities. Reason is, we don't know how much money is available."

Last year, the board of regents passed the Amos Tuition Setting Process, a policy that prohibits the board of regents from voting on tuition without knowing the Legislature's appropriation.

"What's fair to students is not necessarily what's best for students," said UA President Peter Likins.

He supported a 5 percent tuition increase to cover inflation, improve technology and offer students more financial aid.