By Michael Isaac Jacobs
Arizona Daily Wildcat April 3, 1998

Women's tennis team 'peaks' in win over Lobos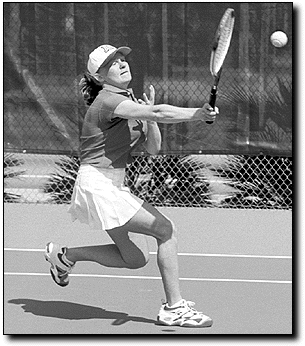 Nicholas Valenzuela
Arizona Daily Wildcat

UA freshman Joanna Buczkowska comes up to the net to return a shot from a New Mexico player yesterday at Robson Tennis Center. The tennis team beat New Mexico yesterday 9-0 and plays at Texas on Sunday.


Spring Fling is on the lawn and the UA women's tennis team's spring swing is blossoming.

As a wide array of carnival rides sprung up on the lawn across from Robson Tennis Center yesterday, No. 28 New Mexico was plunged on an 9-0 roller coaster ride by the No. 19 Arizona Wildcats.

"Playing teams like New Mexico raises our confidence," UA assistant coach Courtland Gettel said. "To come out and sweep in the singles means that everyone is peaking at the same time. We have the potential to surprise some teams in the near future."

The ninth-ranked Texas Longhorns are in the immediate future as Arizona travels to the Lone Star State for a noon match on Sunday.

"I played in the Big Ten against Texas last year," freshman Vanessa Abel said. "They always have good players and are always tough."

Abel and fellow freshman Michelle Gough steamrolled the Lobos' Aimee Hites and Natalia Alekhova 8-2 yesterday afternoon.

Spectators could see a wide smile on Vicky Maes' face as the team captain ousted Ana Friganovic 6-4, 3-6, 6-3.

"I've always played on court No. 1," Maes, a senior, said. "I've always felt that when other teams come (here), they're not going to beat me on that court."

Maes and freshman Joanna Buczkowska used scintillating net play to burn the Lobos with a 8-4 doubles win.

"I had a lot of fun today. I've realized that I haven't been doing stuff in games that I do in practice, so I today I came out with a game plan and I stuck to it," Maes said.

UA senior Betsy Miringoff and junior Monique Allegre continued a winning tradition at the second doubles slot with an 8-5 victory.

Meanwhile, the men's team gets somewhat of a break from the grind of the Pacific 10 Conference's ferocious competition.

The team is traveling to the Northwest to battle a pair of Pac-10 Northern Division teams. No. 27 Washington and the Wildcats joust today in Seattle at 2:30 p.m. and No. 60 Oregon awaits a Sunday afternoon match in Eugene with No. 41 Arizona.

The Huskies hold an 11-4 record, while Oregon is 11-7.

"These are two important matches for us," redshirt freshman Brian Jackson said. "We have to win some more matches to make the regionals."

Jackson, a Tucsonan, is remaining in town while his teammates venture to the Pacific Northwest.

"The attitude was positive before the guys left," he said. "The guys are looking forward to picking up some wins on the road."

Arizona, a 4-7 team, is currently on the wrong end of a five-game losing streak. They played at home for the final time this year last week against top-ranked Stanford and No. 30 California.