By Chris Jackson
Arizona Daily Wildcat April 3, 1998

UA baseball team looks to rebound against ASU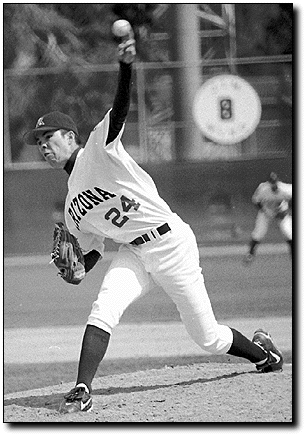 Brian D. Rothschild
Arizona Daily Wildcat

Junior southpaw pitcher James Johnson (24) sends a pitch to home plate against UCLA. Johnson will be the starter pitcher against ASU in this weekend's game.


The last two weeks haven't been kind to the Arizona baseball team.

Amid bouts of illness and a rash of injuries, Arizona's once-powerful offense has vanished.

The result? The Wildcats have dropped eight games in a row.

So there's nothing like an in-state rival to spice things up again.

"I think we're good," UA senior catcher Greg Clark said in response to how pumped up the team is to face the Sun Devils. "We've had a good practice week. We're just feeling good all around about this series."

No. 24 Arizona (25-13 overall, 7-8 in the Pacific 10 Conference Southern Division) and No. 19 Arizona State (22-14, 8-6) go head-to-head for the first time this season tonight at 7 at Frank Sancet Field and continuing tomorrow at 7 p.m. and Sunday at 1 p.m.

When asked if this was the latest date the two rivals had met in a season, UA head coach Jerry Stitt had no idea.

"It's interesting, though, that we're finished with USC and we haven't even played ASU yet," he said.

Going into the series, the Wildcats are looking to awaken their slumbering offense.

Arizona has scored only 31 runs during the losing streak after having averaged 11.9 runs a game in the first 30 contests of the season.

"We just didn't execute well offensively," Stitt said of the three-game sweep Arizona suffered at the hands of Oregon State last weekend. "But the enthusiasm will be there this weekend. It hasn't been recently."

Stitt has no explanation for the cause of the offensive dropoff, other than to say it is more mental than physical.

"It's one of those things in baseball, one of the mysteries of baseball," he said. "Every team has a series of games during the season where they can't seem to do anything right."

Clark agreed.

"It's offense, it's pitching, it's everything. There's no one answer," he said.

The Sun Devils, by comparison, have struggled on the mound this season, which has been their strength in years past.

Left-hander Ryan Mills, whom Stitt rated as one of the top three prospects in the nation earlier this year, has struggled to date, going 4-3 with a 4.41 ERA after leading the Six-Pac in ERA last season.

Mills will start today's game against Wildcat southpaw James Johnson (4-2, 4.98).

The weekend matchups will be rounded out with right-hander Richy Leon (2-0, 5.40) against UA right-hander Darrell Hussman (3-4, 8.37) tomorrow and left-handers Phill Lowery (5-4, 4.48) and Tony Milo (7-1, 4.39) battling Sunday.

"We don't really know what to expect from them (the ASU pitchers)," Stitt said. "We've faced them all before, but we don't know what they're doing this year."

Clark said the team still expects to face one of the better pitching staffs in the country, despite the dropoff in stats from last year.

"They've got some great pitching. It could be a million different things as to what's wrong," Clark said. "They've got a lot of talent in their pitching."

Clark will also be busy this weekend as the Sun Devils are leading the conference with 74 stolen bases, led by shortstop Willie Bloomquist (20), center fielder Mikel Moreno (14) and third baseman Andrew Beinbrink (13).

"If they're stealing bases we just need to make good times from the pitcher and myself (in throwing to second base)," Clark said. "Hopefully they won't even get on base, then I won't have to worry about it at all."