By Scottie Bricker
Arizona Daily Wildcat April 8, 1998

McCutcheon sparks UA to sweep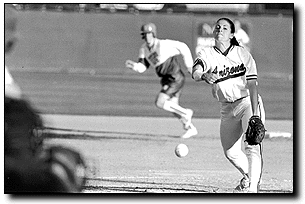 Brian Foster
Arizona Daily Wildcat

UA pitcher Nancy Evans (right) gets some advice from thirdbaseman Leticia Pineda (7) and catcher Leah Braatz during Saturday's game against Washington. Evans will likely start when the Wildcats host Fresno State tonight at Hillenbrand Stadium at 6.


Arizona senior Alison McCutcheon may be the only player in the country who can turn off the light switch and make it into bed before the lights go out.

The Wildcat's completed a double-header sweep of Fresno State last night as their center fielder, along with fellow senior Leah Braatz, continued their hot hitting and fleet-footed running in support of their team's early season success.

Arizona's lead-off offensive catalyst collected three singles, walked twice, stole five bases and scored three runs in leading UA to wins of 4-3 and 6-2 over the highly-touted Bulldogs.

"I started feeling real good in the second game against Washington (Saturday)," McCutcheon said. "It is just so fun to come out here and compete against a tough team like Fresno State. These are the kinds of games Arizona teams love to play."

Arizona head coach Mike Candrea used some of his most aggressive tactics on the base paths this season after McCutcheon told him she thought she could steal at any time.

"I was looking at the shortstop and third baseman to see if there was any communication and they looked like they weren't expecting it," Candrea said of a double steal he called in the second game.

Meanwhile, Braatz had her share of fun as well homering twice in the second game of the double header, her 16th and 17th long balls of the year.

In the opening game, McCutcheon led things off in the Wildcats first at bat, drawing a walk and collecting the first of her stolen bases on the next pitch. Freshman Toni Mascarenas then singled to right, driving in McCutcheon from second to put UA on top, 1-0.

After senior Leah Braatz struck out, fellow senior Lety Pineda hit her 10th home run of the year, a two-run blast, staking senior hurler Nancy Evans to an early 3-0 lead.

The Bulldogs tied the score at three in the fifth, but in the bottom of the inning, McCutcheon singled and stole second and after freshman Nicole Giordano walked, Candrea called for the double steal. An error on the play by Bulldog catcher Amber Wall allowed McCutcheon to score the game-winning run.

The night cap began auspiciously for the Wildcats as the Bulldogs opened with a pair of runs in the first frame.

Fresno State lead-off hitter Laura Berg began the game with an infield single and came around to score on a throwing error by pitcher Becky Lemke and a fielding error by Giordano in right, who allowed Lemke's overthrow to squirt through her legs.

Three batters later, the Bulldogs power-hitting Amanda Scott stroked a line-drive shot over the center field wall, her ninth home run of the season.

After that, Lemke settled down and allowed just one hit the rest of the way while striking out seven in earning her 14th victory of the year.

McCutcheon started the Arizona assault in the bottom half of the inning, drawing a walk, stealing second and coming around to score on an error by Wall.

Arizona hosts arch-rival Arizona State Friday at Hillenbrand Stadium at 6 p.m.