By Seth Doria
Arizona Daily Wildcat April 8, 1998

Dawn of a New Era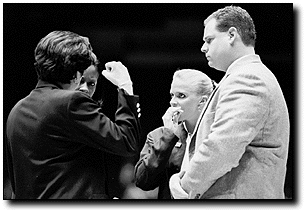 Tanith L. Balaban
Arizona Daily Wildcat

From left, head coach Joan Bonvicini, associate head coach Tracy Waites, and assistant coaches Denise Dove and Bill Broderick discuss the game during the first round of the NCAA Tournament held in Tucson in March.


Now that the women's basketball season is over, one would figure things would settle down for head coach Joan Bonvicini and her staff.

But, as most coaches in successful programs are, Bonvicini, associate head coach Tracy Waites and assistant coaches Bill Broderick and Denise Dove have been traveling the country trying to fill holes they see in next year's team, which will feature five freshmen and may include a couple of junior college transfers.

The goal right now: experienced post players.

As the spring signing period begins today, Arizona's frontcourt has only one player, 6-foot junior forward Shontey Hambrick, who has seen any meaningful game action.

While Hambrick averaged 1.3 points and 1.3 rebounds a game, the two other UA post players, freshmen LaKeisha Taylor and Monique Paige, never saw the court except for at the end of blowouts.

Taylor, a 6-4 center from Houston, didn't play at all as she redshirted after breaking her arm during a bicycle accident before the season.

Bonvicini said Taylor has come on in practice over the past month and a half, but she might not be ready to take over the roll left by departing senior Marte Alexander.

"She can score," Bonvicini said. "She's just young. To put her in the starting lineup might be unfair."

Paige, who is 6-2 and hails from Flower Mound, Texas, was suspended for the second half of the season for an unspecified rules violation and was not with the team through the postseason

Along with Paige, Taylor and Hambrick, Arizona has added 6-4 center Michelle Mitchell from Oregon City, Ore., and 6-3 forward Elizabeth Pickney from Houston.

Dove is also Arizona's recruiting coordinator. She said Mitchell, whose team went undefeated with her in the lineup on its way to winning its fifth-straight state championship, is a hard worker when she is on the floor and that her defensive rebounding skills would be a big asset at UA.

"She wants to be a very good college player," she said. "She loves knocking people around."

Pickney, an All-Texas selection in a division that holds 222 teams, is a great shot blocker and scorer, though she will need to add some size, Dove said.

"They will both fit in real well with our team," she added.

Aside from the freshmen recruits who have signed, Dove said the Wildcats are actively pursuing two junior college players who would add a physical presence and some scoring punch inside.

"We're looking for someone with college experience and with scoring ability who has adjusted to college life and the college game," Dove said. "We need some leadership in the post unit."

As the spring signing period begins, Dove said she hopes the Wildcats will soon be signing one of last season's best junior college players, though she was forbidden by NCAA regulations to identify the player.

While questions remain about the frontcourt, Dove said she believes the Wildcat backcourt next year will be among the best nationally with the additions of three players 5-8 and taller.

And, as Bonvicini said, "good guards will keep you in every game."

Two of those players - Tysell Bozeman from Moreno Valley, Calif., and Julie Brase from Catalina Foothills High School in Tucson - averaged 27.6 and 26.8 points a game, respectively.

Bozeman, however, has yet to pass the SAT and may either not qualify to play next year or only qualify partially, which would mean she could practice but not play.

Brase set the all-time scoring mark in the state with 2,913 career points. She has been named the Southern Arizona player of the year and been named to the All-State team each of the past three years.

Jenifer Callahan was named her team's most valuable player as she led Scottsdale's Chaparral High School to a 23-7 record and a berth in the state quarterfinals.

"I will challenge that backcourt against any backcourt in the country," Dove said. "They are going to complement one another and make each other look good."

Dove said she envisioned next year's backcourt - consisting of the three freshmen and returnees Reshea Bristol, Lisa Griffith, Felecity Willis and Monika Crank - as being comparable to what the Wildcat men's basketball team had this year.

"You know you have a solid backcourt when all three guards can take the ball up the court," Dove said. "It makes us more potent offensively."

But while the future seems promising for the Wildcats, they still have to deal with the loss of forward Adia Barnes, who finished second in all-time scoring for a UA men's or women's basketball player.

Bonvicini said other players will have to collectively make up for the loss of Barnes, who is expected to announce on Thursday or Friday whether she will play for the WNBA or the ABL professionally.

"Those are big shoes to fill and I don't want to put that burden on any one player," Bonvicini said. "We're going to have to spread the scoring around."
The future
As Arizona's women's basketball enters another era, one in which it hopes it will be able to continue the upward climb it has established over the past three years, here is a brief look at the players who should be the backbone of the team for the next four years.
Tysell Bozeman
(Moreno Valley, Calif.)
5-foot-8 point guard

Averaged 27.6 points, 7 rebounds, 5.4 assists and 6.2 steals a game last season

Ranked the 21st-best prospect by the Mike White All-Star Girls Report
Julie Brase
(Tucson)
5-9 guard

Averaged 26.8 points, eight rebounds, three assists and six steals a game

Named first team All-State
Jenifer Callahan
(Scottsdale)
5-9 guard

Averaged 14 points, five rebounds and three steals a game

Named second team All-State
Michelle Mitchell
(Oregon City, Ore.)
6-4 center

Averaged 14 points, 11 rebounds and four blocks a game

Named first team All-League
Elizabeth Pickney
(Houston)
6-3 forward

Averaged 20.1 points and 8.2 rebounds while shooting 62 percent from the floor

Named first team All-State