By Chris Jackson
Arizona Daily Wildcat April 8, 1998

Arizona baseball snaps losing streak with easy win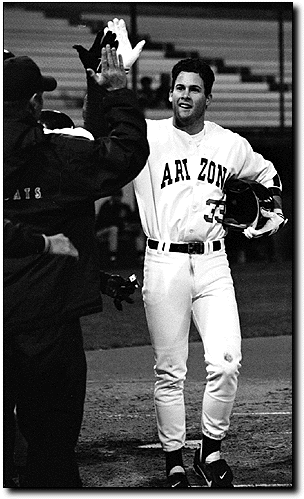 Leigh-Anne Brown
Arizona Daily Wildcat

UA senior first baseman Kenny Corley (33) celebrates with his teammates after smashing his record-breaking home run against Grand Canyon last night at Sancet Field. Corley's home run gives him 35 for his career breaking David Shermet's UA record set from 1985-88.


The grin on UA head coach Jerry Stitt's face after the game told the story.

The streak is over.

"We pitched well, we hit well, we did everything well," Stitt said with a smile after Arizona (26-16) thumped Grand Canyon (19-15) 17-0 at Sancet Field last night.

The win ended a record-tying 11 game losing streak for Arizona and a six game home losing streak.

"I think a lot of us were one hit away from (regaining) our confidence," UA senior first baseman Kenny Corley said.

Corley provided the game's individual highlight in the bottom of the first with a two-run shot to left field. That home run broke the tie between Corley and Dave Shermet for the all-time career home run record.

It was Corley's 35th homer of his career and his 11th this season.

"Yeah, I suppose it does," Corley said when asked if hitting the home run took some pressure off him. "I've not been focusing on it that much, and now that it's done, I won't have to worry at all."

Stitt said hitting the home run might help Corley over the next few weeks.

"That was huge for him," Stitt said. "He's been chasing it all season long. Now that he's got the record he'll quit trying to hit a home run on every pitch and focus more on hitting line drives."

Arizona went up 2-0 on Corley's drive and never looked back, rolling over Antelope starter Mike Torres (0-2).

Senior right fielder Jason Hendricks hit his 12th homer of the season in the bottom of the second, and junior catcher Greg Clark made it back-to-back with his 11th a pitch later.

Junior third baseman Omar Moraga went 2 for 6 with a double and three RBI. Freshman shortstop Keoni DeRenne was 3 for 3 and also had a double and three RBI.

"I think they felt pretty good today going into the game," Stitt said of his players.

Starter Dave Abbott became the first right hander since Feb. 27 to pick up a win for Arizona, improving his record to 3-1 while giving up three hits and striking out seven over five innings.

"Abbott really threw well," Stitt said. "He had a good breaking ball going, he was getting strikes."

The Wildcats resume conference play against UCLA on Thursday night at 6 in Los Angeles. Arizona's next home game will be against No. 1 Stanford on Apr. 17.