By Angela Romano
Arizona Daily Wildcat April 14, 1998

Likins addresses faculty's concerns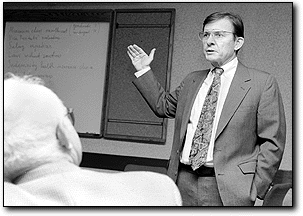 Nicholas Valenzuela
Arizona Daily Wildcat

UA President Peter Likins speaks at the American Association of University Professors meeting while Miklos N. Szilagyi, president of the UA chapter of AAUP, listens. The AAUP meeting held yesterday in the Tucson Room of the Student Union gave the faculty a chance to express concerns to Likins.


A handful of faculty members yesterday aired a smorgasbord of concerns to UA President Peter Likins, who said he was receptive of their needs and would look into long-term solutions.

In front of 12 other faculty members in the Memorial Student Union Tucson Room, Miklos Szilagyi, president of the UA's American Association of University Professors chapter, told Likins the university should correct everything from salary injustices to classroom enrollment policies.

Likins offered tentative solutions to the problems and said he would look further into issues he was not completely familiar with.

"Not only I but all members of the administration have a certain obligation when dealing with issues and concerns of faculty, staff and students," Likins said. "My personal agenda is trying to better understand and foster mutual respect at this university."

Szilagyi, who began the salary injustice discussion, said faculty of equal rank often do not receive comparable paychecks.

"A whole group of the faculty - the oldest (members) - have a negative salary in comparison to newer faculty," he said. "This is a salary injustice."

Likins, however, said salary compression is a national problem. He said when the UA recruits faculty, it has to offer competitive market salaries.

If faculty have problems with salary distribution, Likins said, they need to appeal to their department heads.

"It's not economics, but a process that begins with a recommendation from the dean to the provost," he said. "If there's a problem, it's built into the managerial system."

To other issues, such as minimum classroom enrollment and faculty and administration evaluations, Likins said UA's policy should be more flexible or possibly be changed.

"We need to ask ourselves, are we following procedures and should we change procedures?" he said.