By Rachael Myer
Arizona Daily Wildcat April 14, 1998

UA president calls for better recycling effort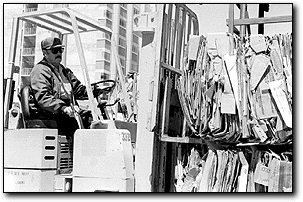 Brian Foster
Arizona Daily Wildcat

Cardboard recycling expert Pancho Conzales stacks bundles of cardboard outside the UA's recycling center. Pancho says he ties and stacks one ton of cardboard each day.


The UA is recycling only one-half of the waste it should be salvaging - a problem that impacts not only the Earth but the university's pocketbook as well, President Peter Likins said in a memo urging the campus to step up recycling efforts.

"We are missing the opportunity to generate income by selling waste materials. I find this disturbing in a University which continues to face financial difficulties," Likins wrote in his March 18 memo to University of Arizona's deans, directors and department heads.

The UA's Recycling Department saved the UA $32,000 last year by recycling materials instead of sending them to landfills, said Susanne Chambers, the department's office manager.

Last fiscal year, the department also earned about $8,900 from recycling office paper, $5,800 from cardboard, $2,700 from aluminum and $9,000 from scrap metal, said Chambers, a recycling ecology evolutionary biology and nutritional sciences senior.

But UA Recycling Coordinator Richard Garb also estimated his department handles only about half of the waste it could be recycling.

Not having enough money or space and a system that is difficult to track how much garbage is produced are some of the contributing factors to the deficit, he said.

"It is frustrating because we know we could do more if we had more space and money," Garb said.

The UA's Recycling Department has the smallest facility and budget compared to Northern Arizona University and Arizona State University, but the UA still recycles more, Garb said.

"We recycle more than ever, and students (who work there) believe in what they are doing," he said.

The Recycling Department, with four students and a senior citizen, tries its best to be very accessible, Garb said.

With 150 different sites around campus for recycling office paper, between 100 and 150 sites for aluminum recycling, about 50 to 70 sites for cardboard and 12 sites for newspaper recycling, Garb thinks the department is exceeding expectations.

Besides UA students, the Recycling Department also uses volunteers from the Howenstine-Project Rice Special Education School who gain vocational experience through the program, Garb said.

One problem, however, is that materials are not placed in the proper recycling bins, Chambers said.

"We get a lot of garbage in our recycling bins," Operations Manager Milinda Silvas said. "That is a big problem for us because a lot of our time is spent sorting the contaminants out."

Likins' memo also addressed this as a significant problem.

"I would appreciate your help in encouraging employees to place more of our appropriate waste materials in the recycling bins," Likins stated. "The effort is minimal but the results would be rewarding both financially and morally. The University would benefit and the pressure on natural resources would be diminished."

The current recycling rate is a problem because it pollutes the atmosphere in ways that are avoidable, Likins said in a telephone interview.

Increasing awareness is the first step to eradicating the problem, said Likins, who also said he is an avid recycler.

Likins said recycling was stressed in Pennsylvania, where he lived before coming to the UA.

Although Likins said he was less familiar with Arizona's recycling policies, "Most folks in Tucson treasure our environment and want to do the right thing."

Devon Maxey, a Howenstine student who has worked at the Recycling Department for two years, said, "This is a nice place to work and I like helping out. It is fun. You should try helping out here sometime."

"Their actions benefit us financially and spiritually," Garb said of the Howenstine students. "The hope is they will be able to work on their own."

Many UA members add to the recycling effort, Garb said.

Some of the campus' most avid recyclers are in the Administration building, Life Sciences South, Old Chemistry, the Main Library, the College of Law, the Veterinary Sciences building and the athletic department, Garb said.

"We really appreciate all efforts of the students, facility, staff, custodians who do the bulk of the work," Chambers said.

"And also the ground services who take an active part," Garb added.

UA students vary in their recycling efforts.

"I don't recycle but it is good what you are doing," said Sarai Borquez, who was visiting the Center for English as a Second Language.

"I recycle aluminum cans," elementary education sophomore Sara Peck said. "I rarely see people recycle here."

More environmental opaportunities will be available as Earth Day approaches April 22, Garb said.