By David J. Cieslak
Arizona Daily Wildcat April 14, 1998

Kolbe in town for student forum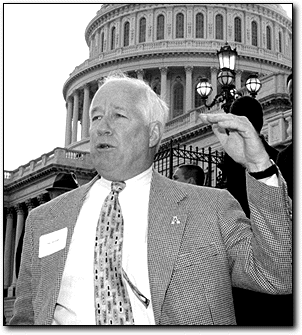 Katherine K. Gardiner
Arizona Daily Wildcat

U.S. Rep. Jim Kolbe, R-Ariz., will discuss with students their concerns about federal issues today at 1:30 p.m. in the Memorial Student Union Arizona Ballroom.


U.S. Rep. Jim Kolbe will host an Associated Students-sponsored town hall meeting today at 1:30 p.m. in the Memorial Student Union Arizona Ballroom.

Organizers said Kolbe will speak briefly and then turn the microphones over to the audience for questions.

"A lot of students complain that they're not a part of the process," said Andrew Hayden, ASUA's federal relations director. "This is a chance for students, faculty and staff to address concerns that he can deal with at a federal level."

Before the forum, Kolbe will meet privately with outgoing and incoming ASUA representatives. Hayden said Kolbe will then spend about 30 minutes in the Arizona Ballroom with the public.

Kolbe is a 55-year-old Republican congressman in his seventh term representing Arizona's fifth district, which includes Tucson and Eastern Pima County. Kolbe is a member of the Appropriations and Budget committees and the National Campaign to Prevent Teenage Pregnancy . He is chairman of the Border Caucus, a group whose members are concerned with border issues.

ASUA President Gilbert Davidson said he asked Kolbe to speak at the UA when he traveled to Washington, D.C., with other University of Arizona representatives last month.

Davidson said Kolbe came to the UA two years ago. During today's visit, he is expected to discuss higher education issues and student concerns over Pell Grants, a form of federal financial aid.

"I'm sure there will be questions about larger federal issues," Davidson said.