By Arlie Rahn
Arizona Daily Wildcat April 16, 1998

Gymnasts represent UA in Nationals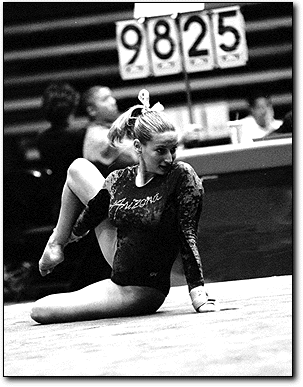 Ian Mayer
Arizona Daily Wildcat

UA freshman Kara Fry strikes a pose in a floor exercise in a match earlier in the season. Fry and teammate Tenli Poggemeyer will compete in the NCAA Women's Gymnastics Championships beginning today at UCLA's Pauley Pavilion.


The UA gymnastics team has two more chances to do some damage in the postseason when gymnasts Tenli Poggemeyer and Kara Fry compete in the individual competition in the NCAA Women's Gymnastics Championships.

Poggemeyer, who qualified in the beam competition when she claimed first at the Midwest Regional, and Fry will continue Arizona's season as all around competitors at UCLA's Pauley Pavilion beginning today and continuing through Saturday.

"This is a unique situation for us as we have a fifth-year senior (Poggemeyer) and a true freshman both qualifying for Nationals," UA head coach Jim Gault said. "This will be a great experience for both girls and they are both very excited to have this opportunity."

Fry qualified when she recorded a sixth place finish in Regionals with an all around score of 38.925. Poggemeyer finished right behind her with a 38.825, good enough for seventh. Those scores qualified for at-large bids at the Championships.

"The way it works is that all of the team competitors are taken out of the pool and the top 12 remaining scorers make the all around," Gault said. "Each girl will perform with the team with the same ranking. So, Tenli will be performing with North Carolina State and Kara will perform with Michigan."

Fry has been a clutch performer for the Wildcats against top opponents. Against sixth-ranked UCLA, she posted four personal bests and ended the night as Arizona's top performer with an all around score of 38.850. Since then, she has upgraded her career mark in the all around to a 39.250.

Poggemeyer has been Arizona's most courageous and consistent performer throughout the season. She has battled through a broken rib injury to score high in the Stanford, Arizona State and Midwest Regional meets.

"I think this is a great testament to what Kara and Tenli have accomplished this season," UA assistant coach Bill Ryden said. "It's a bittersweet feeling because the team didn't make it. But we are all happy for what Kara and Tenli have done."