By Arlie Rahn
Arizona Daily Wildcat April 16, 1998

Pursuing Athletic Excellence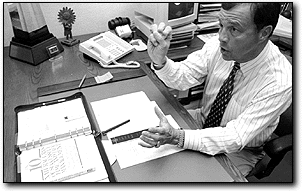 Karen C. Tully
Arizona Daily Wildcat
UA athletic director Jim Livengood speaks with an Arizona Daily Wildcat reporter on the status of women's sports, the new weight facility, and goals for the next season.

In the final part of the Daily Wildcat's interview with Jim Livengood, UA's athletic director tackles questions including expansion, women's sports and financial decisions.
Department expansion
Q: With the construction of the IIF building and a new weights facility beginning this summer, how will tailgating activities for home football games and Homecoming be affected?
A: There's a certain price to be paid for growth. I've heard many college presidents say that sometimes a vibrant campus is shown by the number of cranes on that campus. We are going to have to relocate some things in terms of tailgating. What we have to understand is that the end result when these buildings are done will be far better for the futures of our students. We would be very short-sighted to not construct these buildings because they would disrupt us for a short period of time.
Q: How much do you deal with club sports teams and do you see any of these programs moving to the Division I level in the near future?
A: We have enough of a management struggle with the 18 sports and 500 student athletes we have. But we try and work with them in terms of sharing facilities and we feel they are important. I can't predict the future, but I am a very strong believer of having a broad base of sports for our student athletes. At some point down the line I would like to add a couple sports.
Q: With volleyball's continued interest in playing its games in Bear Down Gym, is there anything being worked out right now that might move the intramural system somewhere else at times to open the gym for volleyball?
A: We still have hopes that at some time we may house our volleyball team in Bear Down. Part of the problem for our volleyball team surrounded the hard floor in McKale Center. But with the new floor being constructed right now, that does help the situation in that respect. That doesn't mean we are giving up on Bear Down, but that does solve one of the problems.
Women's sports gaining fame
Q: What do you think is responsible for the success of women's athletics at Arizona over the last couple of years?
A: I think one of the things is that we put a lot of importance on both women's and men's sports. We tend to look at it as if you are a student athlete at the University of Arizona, your experience will be exactly the same regardless of your gender or the sport. That's a little bit different attitude and an important one. That is one of the reasons why all of our programs are getting better and we have had some remarkable success in our women's programs. And that spreads in recruiting when that idea gets out and you keep getting better and better.
Impact of uncontrollables
Q: What impact do you think local spring training has on Arizona baseball and softball? And does this limit the fan support for Arizona's spring sports?
A: Spring training is here and what we need to do is turn that into a positive. We can't look at it as we won't have people at our games, but instead look at it as it will create even more interest in baseball and softball. The pros are only here about six weeks and it's great for Tucson. We need to embrace it and try and involve these guys in our games. For instance, when we have the PGA Tour here, we will bring some of the golfers and involve them in the halftime activities for basketball games.
Q: In terms of the athletic department's budget, is it a big hit when a team like this year's basketball team falls short of reaching the Final Four?
A: It's not a hit at all. What our men's and women's teams did in basketball is absolutely a bonus. To have them reach the Elite Eight and Sweet Sixteen is a phenomenal accomplishment. Sometimes we make too much about these things and forget that the reality is that only one team in both men's and women's will finish on a winning note. So regardless of where you finish, it is still as much of a downer for Louisiana Tech and Utah as it is for the rest of us.
Q: Arizona's men's basketball team has lost two assistant coaches in as many years, not to mention others in women's basketball, football and softball. How hard is it to lose good assistant coaches to other jobs and keep filling those spots?
A: It's a hard thing because you don't want to lose good people, but that's also our responsibility. Our responsibility is to help people move on if that's what they want to do and then bring in other people. And hiring coaches is really the most important thing that I do. They are the people that represent our university and in a sense hiring them is like recruiting for me. On the other hand, I don't want to see a big turnover, but you don't want to be real selfish and say you don't want anybody to leave. Their goals are the same as mine were, so I want to help them as best I can to accomplish those.
Life as the Dand feelings on job-related issues
Q: What is your lifestyle like as the athletic director and how do you keep all the sports happy in terms of attending games and other functions?
A: It is very busy, but my wife and I enjoy seeing a little bit of everything. I try to see as many events as I possibly can, but I still have things to do in McKale. It's much easier when they are at night because the same person that will say if I'm not out at the baseball field at 5 o'clock, "What's the matter, Jim, don't you like baseball?" will come up to me if I'm sitting there for three innings in an afternoon game and say "Aren't there more important things you should be doing instead of watching baseball?" My wife and I went for a stretch for almost six-and-one-half weeks where we were never home a single night, except to sleep. You're at a meeting or a game or something else, so that makes for a long day. But I love it.
Q: What is your favorite part about this job? What keeps you going?
A: The thing that drives me is that our student athletes are tremendous. And every once in a while someone will say, "Hey Mr. Livengood, thanks for being at our game" and I really appreciate that. I had a student athlete of ours who had graduated and was looking for a coaching job and he was shocked when I helped him get that coaching job. I feel my responsibility is to not only be involved with the athletes when they are here, but also be involved with them for the rest of their life. I want to help and it makes me feel good when someone like that is shocked that I would spend so much time helping him even though he was no longer a student here. That part right there I enjoy more than anything else.
Since his arrival from Washington State in 1994, UA Athletic Director Jim Livengood has continued Arizona athletics acension into national prominence while improving the department's graduation rates.
Striving for success
1993-94, the year before Livengood's arrival:
Top 10 Division I Finishes
three
Director's Cup Finish
sixth
Graduation Rate
49%
Livengood era begins:
Top 10 Division 1 Finishes
1994-95 six
1995-96 eight
1996-97 six
Director's Cup Finishes
1994-95 fourth
1995-96 seventh
1996-97 sixth
Graduation Rate
1994-95 51%
1995-96 52%
1996-97 64%