By Scottie Bricker
Arizona Daily Wildcat April 16, 1998

Softball team enjoying time away from diamond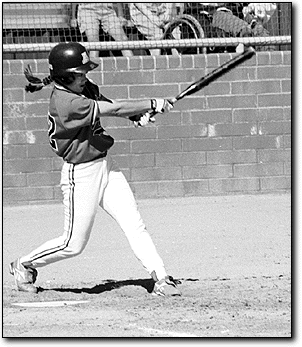 Leigh-Anne Brown
Arizona Daily Wildcat
UA freshman third baseman Toni Mascarenas (32) nails the ball in a game earlier in the season. Mascarenas and the rest of the Wildcats took a break over the Easter weekend to recoup for their two away series against California and Stanford this weekend.

After a torrid streak that saw the top-ranked Arizona softball team play eight games in as many days, it is back to business in preparation for this weekend's road trip to the San Francisco Bay Area to take on No. 20 California and No. 12 Stanford.
The Wildcats used the week away from the playing field to regroup, take a deep breath and take some all-important time to themselves.
"I slept, I didn't do any homework and I spent good, quality, family time with my husband," senior Alison McCutcheon said of her activities during the off week. "I really didn't do anything at all."
While McCutcheon took time to relax in town, others used the time to travel home.
"I went home for Easter to see my family and my boyfriend," freshman third baseman Toni Mascarenas said. "It was very relaxing. We needed the three days off to recuperate."
Even head coach Mike Candrea, one of the biggest proponents of spending as much time on the field as possible, realized the need for a break from the day-to-day grind.
"I just told the kids all we needed was some time to get away and rest," Candrea said.
With the Pacific 10 Conference schedule nearly half complete, Arizona is primed and ready for a run at its third straight national championship.
The injury bug
As can happen from time to time with a strenuous schedule, the Wildcats have been bitten with injuries on a couple of occasions this season.
Of greatest interest is the stiffness in the pitching arm of senior hurler Nancy Evans, one that she said will not prohibit her from being on the mound this weekend.
"I irritated it about two weeks ago and I'm getting some treatment," Evans said. "(It's) doing better.
"No matter how it feels I'll be ready (this weekend). Even if it hurts a lot I'll be out there."
Candrea said his team will be ready with continued monitoring of injuries to Evans and fellow senior Lety Pineda.
"We are still nursing Lety with her knee and Nancy's arm is still a little sore, but otherwise we should be OK," Candrea said.
Leaving their mark
A trio of seniors is poised to rewrite the record book over the last few weeks of the season as McCutcheon, Evans and catcher Leah Braatz each are on the verge of etching their names in the No. 1 spot in several career statistical categories.
McCutcheon currently ranks second in hits, stolen bases and runs scored. She has 361 hits, just 10 behind current assistant coach Amy Chellevold and needs 11 base-path swipes and 37 runs scored to take over the top spot in those respective categories.
The All-American center fielder already holds the record for career triples at 21 and counting.
Evans recently broke Carrie Dolan's mark of 103 career wins with her victory over Texas in the finals of March's Kia Klassic in California. She is currently 22-1 in the circle this year.
Braatz is tied with Leah O'Brien for the lead in career doubles with 53 and is just nine home runs shy of eclipsing the mark set by former Wildcat shortstop Laura Espinoza. She is also knocking on the door of record-holder Jenny Dalton's career mark for walks and RBI.