By Bryan Rosenbaum
Arizona Daily Wildcat April 16, 1998

Safe to Go Back in the Water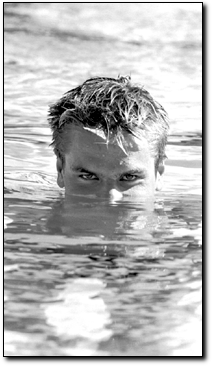 Ian Mayer
Arizona Daily Wildcat

All-American UA sophomore swimmer Ryk Neethling has dominated the freestyle distance events. Neething is only the second person in NCAA history to win all three of freestyle distance meets.


Ryk Neethling can finally kick back and relax. After months of training, traveling and competition, the sophomore swimmer from South Africa can take some well-deserved time off.

Last month in Minneapolis, Neethling became only the second person in NCAA history to win the three freestyle distance meets - the 200, 500 and 1,650-yard. His time in the 1,650 was the second-fastest ever and set a new UA record. He also made UA history in the 200, which was his most satisfying victory of the three.

"The 500 on the first day wasn't a good time and I didn't swim it very well, but the 200 surpassed all my expectations. At the end, in the mile, it wasn't the time I wanted, but I was so tired and happy to get it over with," he said.

After helping Arizona to sixth place in the team standings - a vast improvement on 1997's 16th place finish - Neethling flew to South Africa for his country's mandatory national meet. Tired from the long season, Neethling enjoyed the sun and surf of the South African coast more than he enjoyed another swim meet.

"It was a big meet, but after NCAAs, I was mentally drained and wasn't really into it,"

Neethling said.

Already on South Africa's national team, Neethling participated in the country's first united Olympic team in 1996 in Atlanta. There, he finished fifth in the 1,500 and 10th in the 400 free.

Ironically, the person who would become one of Arizona's greatest swimmers ever boarded a plane to Tucson after the Atlanta Olympics, knowing almost nothing about where he would spend the next four years of his life.

His decision to attend UA was mainly based on his friend and training partner, former UA great Chad Carvin.

"I talked to (head coach) Frank (Busch) a little bit, but it was Chad who influenced me. He's an awesome guy and we became really good friends. I knew they were doing something right when they had so many national champions in the mile, and that's what I was looking for," Neethling said.

Carvin's eligibility had ended by the time Neethling arrived.

"Ryk was my best friend and training partner," Carvin said. "He has better tools and vision now than I ever did."

While Neethling became an instant hit in the pool and with his teammates, settling into the university took some time. A native speaker of Afrikaans, Neethling had to spend some time adjusting to a new language since his classes were being taught in English. All the while, Arizona was a world away from the ever-changing South Africa, whose past is something Ryk looks back on uncomfortably.

"When I lived there, I knew something was not right. But when you take a look from outside, you're like, 'I can't believe we did that.' There's some stuff that got better and some that got worse, mainly crime," he said.

Far away from his home in Bloemfontein, his UA teammates and coaches embraced Ryk as he settled in.

"It took a while to get used to. Now, with all my friends here, I don't want to leave Tucson," Neethling said.

In two seasons, the psychology major has dominated freestyle distance events. In the 1997 NCAA Championships his freshman year, he won the 1,650 free and became the only swimmer to break 15 minutes at the championships. He also finished second in the 500 and was named an All-American. By the end of the season, his teammates named him captain, the only sophomore to ever fill the position.

This past season, Ryk set his eyes on improving the team's finish at the NCAAs in addition to lowering his individual performance times.

"Last year we got 16th, which was unacceptable. Everybody on the team this season was so young, and we decided that we were going to turn it around," he said.

With three national championships and a sixth place finish last month to conclude the season, Neethling and the UA swimmers have exceeded their own and their coach's hopes.

"Both the guys and girls were awesome," Busch said. "They had great seasons, higher than my expectations, that's for sure."

The women finished second at the NCAAs, their highest-ever finish.

"When you set your goals high and you achieve them, it's pretty special. It feels great that you've worked your whole season for that," Neethling said.

He's happy with his accomplishments, but said he is by no means finished.

"I still want to win all three for the next two years, and I think we have the potential as a team to make it into the top two," he said.

His coach couldn't have been happier with his star swimmer or with his hard-working team. Busch, who was an assistant coach for the United States at the World Championships, is probably the only other person who can come close to Neethling when it comes to frequent flyer miles.

"It's been a hard year with the World Championships and everything else that's gone on," Busch said. "It's been a long year for Ryk and I, but it's been fun, especially for him."
Neethling Notes
Born November 17, 1977, in Bloemfontein, South Africa

Named Pac-10 Swimmer of the Year in 1997 as a freshman after winning the conference 1,650-yard freestyle.

Finished fifth in the 1,500 and tenth in the 400 freestyle events at the 1996 Olympic Games

Holds South African senior records in the 200, 400, 800, and 1,500-meter free. Voted best male swimmer in Africa in 1994 and 1995, after winning two national high school events and setting numerous national and state records.