By Chris Jackson
Arizona Daily Wildcat April 20, 1998

No. 1 Stanford pounds Arizona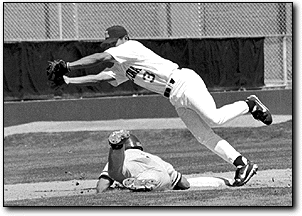 Leigh-Anne Brown
Arizona Daily Wildcat

Third baseman Omar Moraga (3) dives to snare an errant throw from catcher Greg Clark during Arizona's 17-1 loss to Stanford yesterday at Sancet Field. Arizona lost two of the three games in the series.


It wasn't exactly the way the Arizona baseball team wanted to end its series with No. 1 Stanford.

After winning the first game 9-5 Friday and keeping Saturday's contest close before falling 6-3, the Wildcats headed into yesterday's rubber game with the chance to be the first team in the Pacific 10 Conference to take 2 of 3 from the Cardinal.

It didn't happen.

Stanford (33-7-1 overall, 16-5 Pac-10 Southern Division) tore Arizona (29-20, 9-15 Six-Pac) apart by the final score of 17-1.

The loss ended Six-Pac play at Sancet Field for the year. The only remaining home game is a nonconference match with Grand Canyon next Tuesday.

In addition, the defeat means Arizona needs to win its remaining six Six-Pac games in order to finish at .500 and make it to regionals.

"It's going to be a challenge," UA right-hander Darrell Hussman said. "We had the longest winning streak in school history (earlier) this year, so I'm not going to put it past our team."

Hussman came into the game in the top of the first in relief of starter Tyler Haddix (1-1), who lasted only 2/3 of an inning and gave up five runs on five hits and one walk. Hussman didn't fare much better, giving up eight runs on six hits and five walks over four innings.

Stanford center fielder Jody Gerut was the main thorn in Hussman's side, hitting two lengthy home runs off him.

"I didn't throw too hot today," Hussman said. "I'm just thinking this is the end of my college career."

The junior said he is not likely to return to Arizona in the fall, instead opting to make himself eligible for the Major League Draft this summer.

Right fielder Colin Porter, who was one of the nine seniors the team honored before the game, agreed with Hussman's assessment that pulling off six wins in six road games isn't going to be easy.

"It's going to be tough," Porter said. "It's not impossible, though. We've just got to shoot for it."

UA head coach Jerry Stitt said "we can win every game against any opponent. We just have to put the ball in play, pitch well and field well. The only game (in this series) we did that was the first one."

Hussman said Stitt has already got the team focusing on the first road trip to Arizona State.

The Sun Devils are red hot. They have not lost since they swept Arizona in Tucson two weeks ago, including a three-game sweep of UCLA over the weekend that vaulted them into a first place tie with Stanford.
Cardinal 17, Wildcats 1
Stanford 510 252 110- 17 18 0
Arizona 000 001 000- 1 5 2
Stanford, Hoard, Coose (8), Cogan (9) and Alvarado, Kammeyer (9). Arizona, Haddix, Hussman (1), Tyrrell (5), Fredericks (7), Stoneberg (9) and Clark, Mohler (8). W- Hoard (3-2). L- Haddix (1-1). SV- None. HR- Stanford, Gerut 2 (14, 15), Hochgesang (8).