By Michael Isaac Jacobs
Arizona Daily Wildcat April 20, 1998

UA tennis teams turned away by ASU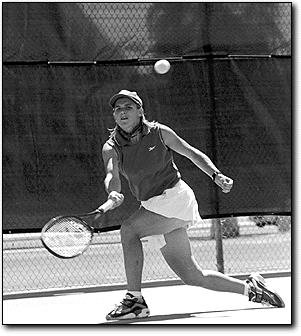 Leigh-Anne Brown
Arizona Daily Wildcat

UA senior Vicky Maes reaches to smash the ball back to her opponent in Saturday's match against ASU. Arizona lost its final home game 6-3.


With the Pacific 10 Conference Championships looming on the tennis horizon, UA's women's tennis team faded into a 6-3 Sun Devil sunset.

No. 18 Arizona split its series with eighth-ranked Arizona State, but might have a chance to avenge Saturday's home loss in a playoff rematch.

The regionals are slated to begin on May 15 in a yet to be determined location, but ASU might jump directly into the NCAA Championships after slipping by the Wildcats.

"We don't care who we play in the regionals, because any team that comes along we'll have to beat," junior Monique Allegre said. "Of course I wish we would have beaten ASU, but overall the team has done well this year with a lot of new players."

The Wildcats entered the season with three returning players, four freshmen, a ranking in the high forties and a first-year coaching staff.

But, 19 tennis matches later, Arizona has completed the regular season with a 10-9 record, a No. 18 ranking and two wins over top 10 teams.

And, even though a loss to Arizona State ended the regular season, the Wildcats are looking forward to the prestige of the Pac-10 Championships.

"I was a little ticked off that we lost to ASU, but we're just concentrating on playing in Ojai, because there's a lot of tradition there," UA senior Betsy Miringoff said.

Allegre carved two impressive wins against the Sun Devils - a singles steamroll over Stephanie Landsdorp 6-2, 6-2 and an 8-4 doubles victory with senior partner Miringoff, who came back to defeat Karin Palme in three sets.

Although members of the UA men's tennis team played before a friendly crowd at the Whiteman Tennis Center in Tempe on Saturday, their minds might have been elsewhere.

"We didn't play great and ASU seemed more concerned about the match than us because we beat them earlier in the year," UA head coach Bill Wright said. "We might have been more concerned about the regionals."

UA senior Mike MacKay kept his 'I will not lose' promise with a 6-2, 6-4 flattening of Sun Devil Peter Dani.

"I think that the guy I played sucked, so I didn't really try that hard," MacKay said. "It wasn't self gratifying to me to win that match, because I'm more concerned with the team goals, and I tried to cheer on the rest of the team while I played."

MacKay said he thought the hometown crowd would produce a more hostile atmosphere, a sentiment shared by fellow senior Roland Kupka.

"They had a pretty big crowd, and were appreciative of some of the good points that we played and won," Kupka said.

No. 35 Arizona State used a three-set marathon win by Gustavo Macaccio at the No. 1 singles position over UA senior Jerome Oliveri to finish the season at 10-10.

Even though the Wildcats finished the regular season with a loss, a 6-11 record including a 3-9 Pac-10 mark has Arizona upbeat about the playoffs.

Especially after the team went 0-10 in conference play last year.

"When we play with the whole team, without injury, our record is very good and we're much more competitive," MacKay said.