By Jason A. Vrtis
Arizona Daily Wildcat April 20, 1998

UA women's water polo team dominates conference tournament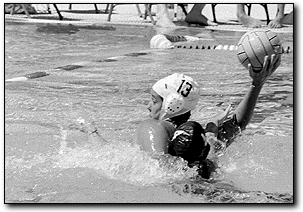 Matt Heistand
Arizona Daily Wildcat

Senior center Shannon Stock attempts a shot while being defended by one of the Colorado Buffaloes yesterday at the Student Recreation Center. The Wildcats beat the Buffaloes 11-5, and went on to win the Southwest Conference Championships.


With a berth in the upcoming NCAA Division III water polo championships already secured, Arizona upheld its No. 1 league ranking with an 11-5 win over Colorado yesterday in the title game of the Southwest Conference Championships.

Senior center Shannon Stock led the Wildcats with her aggressive play as she overpowered the Buffalo defense, rocketing four goals into the net at the Student Recreation Center pool. Stock scored her first goal as time expired in the first period as she beat the Colorado goaltender with a long shot from the middle of the pool.

Stock, who leads the team in scoring, was a little frustrated with the physical play allowed by the referees, but said she expected a tough match and was happy about her team's play.

"We always expect a very physical game when we play Colorado and today was no exception. But my teammates gave me good passes and that allowed me to take some good shots," she said.

The Wildcats jumped out to a 5-0 halftime lead and scored the first two goals of the second half, before Colorado finally got on the scoreboard in the third period. Arizona's Jennifer Strelow chipped in with three second half goals to put the game out of reach.

Arizona, with a perfect 4-0 record in the round-robin tournament, ran its overall record to 18-2 and hopes its national ranking will improve heading into the NCAA championships on May 2-3 in Claremont, Calif. Currently, UA is ranked eighth nationally.

UA head coach Jeff Whitmore said his team is excited about the opportunity to play in the NCAA's, but he is not sure how his team will match up.

"I think we'll play pretty well, but we're going against scholarship athletes, so you never know," Whitmore said.

Texas beat Northern Arizona 6-5 in sudden-death overtime earlier in the day to take home third place.