By Nicole Manger
Arizona Daily Wildcat April 21, 1998

UA prof's work may help out that damn spot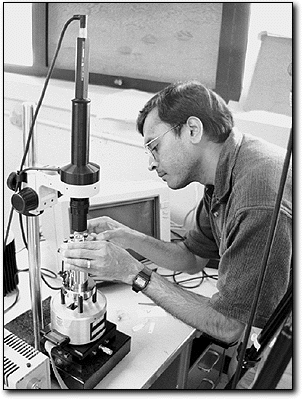 Brian Foster
Arizona Daily Wildcat

Assistant Professor Srinivas Manne demonstrates the complexities of his research Friday in the physics laboratory. Manne received one of five grants from Proctor & Gamble to develop a more effective detergent.


Procter & Gamble Co. has awarded a UA assistant physics professor a grant that may eventually help take two-week-old macaroni and cheese off a pan or remove spaghetti sauce from a new white blouse.

In technical terms, Srinivas Manne will study normal and frictional forces on particles and clusters on artificial surfaces. Practically, his research will help P&G scientists create a more efficient stain-removing detergent.

"I couldn't ask for a more wonderful opportunity to do basic research that people can use," Manne said. "It is tremendous."

Manne's proposal, titled, "The Molecular Mechanisms of Detergency," was one of five selected earlier this month to receive the $150,000 grant from the company's University Exploratory Research Program.

Manne competed for the award, which is usually given to medical scientists, with 348 scholars from across the nation, Sweden and the Czech Republic. It is rare for a physicist to apply for such a highly competitive award, he said.

"I expect a few surprises," said Manne, who hopes to complete his research in three years. "All through my research career I could never predict the final outcome. I always find something that takes me off the beaten path."

His research hinges on the use of the Atomic Force Microscope, which magnifies a surface 10 million to one, feeling the surface rather than seeing it.

Manne said a tiny lever on the microscope touches a structure's surface, mapping its hills and valleys. He uses a mineral sample to demonstrate how the microscope gathers information.

A sample the size of a dime is placed under a lever the way a slide sits under a standard microscope lens. Surface detail is then reproduced on a computer control monitor.

Manne compared the microscope to a record player - the needle senses record grooves to produce sound, and the microscope can scan liquids, atoms suspended in air and probe chemical reactions.

"I tend to use the AFM as a research instrument rather than a diagnostic instrument," Manne said.

He said he hopes to become a stainmaster by viewing a detergent solution with the microscope.

Manne's research will determine how molecules interact with detergents and he will share that information with P&G scientists.

"I'm not particularly interested in making better detergents," Manne said. "This is a wonderful chance to collaborate my research with the scientists at Procter & Gamble."

Alaina Levine, director of communications for University of Arizona's Physics Department, said such a prestigious grant will help the UA solidify relationships with industries.

"We are thrilled," Levine said. "It is really exciting when a professor is awarded a prestigious grant because it shows the strength of the department."

"They were totally excited by it," said Manne, who spent his winter vacation writing the proposal. "My colleagues gave me great support."

He said he plans to use portions of the grant money to purchase new and upgrade old equipment, and to hire graduate students or postdoctoral associates.

Jonathan Wolgemuth, a non-degree seeking graduate student, helped set up the lab where the research will be conducted.

"I'm drooling," Wolgemuth said. "All this stuff I know in theory, but now I can see it, touch it and feel it."

Manne graduated from the UA in 1983 and worked as a staff scientist for two years at the Materials Institute at Princeton University before joining the UA faculty last fall. In addition to his research, he teaches a first-year physics class.