By Chris Jackson
Arizona Daily Wildcat April 21, 1998

Battle for Survival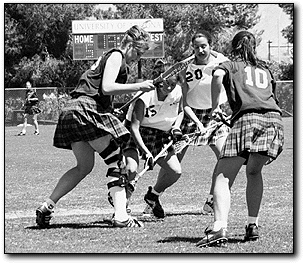 Brian Foster
Arizona Daily Wildcat
UA attacker Sarah Schier (15) and midfielder Heather Kalmbach (20) make a scramble for the ball in a game earlier this season. ASUA and the Student Recreation Center gave $20,000 to club sport funding this year, but split among 36 teams, each squad only receives a little over $555.

It's something that's not seen at the end of most sporting events.
And it symbolizes in a single action the difference between club and varsity sports at the University of Arizona.
After the postgame handshake and team huddle, after the 20 or so fans present go home, senior Jessica Deal of the women's club lacrosse team approaches the scorer's table.
In one hand she carries her checkbook. In the other, a pen.
She sits down and writes a check to the two referees. The money comes from her own pocket, and from her teammates'.
They are not alone in paying the way for their teams to compete at Arizona.
Mary O'Mahoney, campus recreation's program coordinator, said the lacrosse team has a $20,000 annual budget.
Deal said the team gets that money "from car washes, fun runs, raffle tickets and trying to find local businesses as sponsors.
"But a huge portion comes from us," she said.
So why do they do it?
"It's definitely for the love of the game," Deal said. "A lot of us could have gone to a varsity school but didn't. I was looking at Virginia, but I didn't want lacrosse to be my whole life."
O'Mahoney defines a club sport as "a student-run, student-generated team that functions under the administrative umbrella of campus rec.
"There are 36 club sports here," O'Mahoney said. "The money they need comes from a variety of places."
ASUA gave $10,000 this year under a deal that the Student Recreation Center would match the amount. The Rec Center came up with $8,000, so ASUA Executive Vice President Casey Cuny added an additional $2,000 out of the budget to club sports, ASUA club advocate Ryan Rosensteel said.
"ASUA fully supports club sports," Rosensteel said. "But the university doesn't give us enough money to give the clubs any more than we already have."
With budgets as high as the rugby team's $80,000, O'Mahoney said, "You can do the math. The money doesn't go very far."
This year's $20,000 stipend was twice that of last year's, but divided up among the 36 teams, each squads receives a little over $555.
Only the Icecats club hockey team does not take money from the ASUA stipend.
Laxcats head coach Mickey-Miles Felton, whose team has a budget ranging from $25,000 to $35,000, said it is not getting any easier to keep his team financially afloat.
"It's very difficult," he said. "For me personally it gets harder every year, and after 23 years of doing this it gets very demeaning to be going around and asking for money or for money off equipment and tickets and the like."
It's no easier for the players either.
"You're really doing it all yourself," lacrosse senior Andrea Bozzolo said. "The toughest thing is the recognition part. (Varsity sports) get all the recognition and they get taken care of. We get nothing."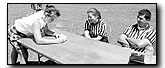 Brian Foster
Arizona Daily Wildcat
UA women's lacrosse senior midfielder Jessica Deal (left) signs a check to pay the two referees for officiating the game against UCLA Apr. 11. Deal and her teammates have to pay the officials themselves.
While UA's 18 varsity sports have a sports information department to get the word out on upcoming games and events, club teams are responsible for handling the costs of publicity, travel, recruiting and equipment.
"We have some problems with finances," sophomore Erin Bradbury said. "Not everyone has hundreds of dollars to spend on plane tickets when we go out to California."
UA head coach Josh Dreiband, who is not paid for his efforts, said traveling is the hardest thing for the team to do.
"You wind up with 10 or 12 girls all sleeping in the same hotel room. You leave on Fridays and come back on Sundays at like one or two in the morning," he said. "When I played lacrosse, all I had to do was show up to practice everyday. They have so much more to do."
One member of the lacrosse team, junior Kelly Matthies, spent her first two years at UA on the varsity soccer team, but quit because "it was too time-consuming for me."
She said the biggest differences between varsity and club sports are "the money and the commitment.
"It's not as serious with lacrosse," she said. "It's OK to miss a practice every now and then. It's more fun, except that we have to pay for everything."
Things could soon change, though, as the athletic department is considering adding another women's sport. Lacrosse is one of the three sports on the list along with water polo and synchronized swimming.
Senior associate athletic director Kathleen LaRose said the possible addition is to comply with Title IX.
"There are three ways to match Title IX," she said. "One is to have men's and women's sports match with the breakdown of men and women on campus. There is currently a 60-40 spilt in our department. The second way is to show you're continually enhancing the program. That's the way we're complying. The third way to comply is to show that there's no women interested in adding more varsity sports."
LaRose said the athletic department has commissioned a survey that a group of MBA students have written up and sent out to a randomly-selected group of students.
"We're basically doing a Title IX compliance survey," group leader Tom Sonnleitner said. "We're statistically sampling the undergraduate population to see if they're adequately represented by the sports at Arizona."
Results from the 17-question survey should be available to the athletic department in mid-May, Sonnleitner said.
"I think it would definitely make it better," lacrosse freshman Praecia Costley said if the program was upgraded to varsity status. "It would be a bigger draw for recruits. Most people don't come out here to play lacrosse."
But Bozzolo said the team's current strength - cohesiveness - might disappear if the program was upgraded.
"Maybe the team unity would come out of it, because we wouldn't have to rely so much on ourselves," she said. "But it's so frustrating sometimes to put in the time and effort to raise money that (varsity status) might be better."
Fundraising Frustration
ASUA distributed $20,000 to 36 club teams at the University of Arizona this past school year, which averages out to $555 per team. Since ASUA's stipend is obviously not enough, club teams rely almost exclusively on sponsorship, fundraising and their own personal donations. Here is a list of the ever-growing budgets club teams face every year.
Approximate annual budget
UA Rugby $80,000
Laxcats $25,000 to 35,000
Women's Lacrosse $20,000
These budget amounts include travel, equipment, recruiting and publicity, not to mention tournament entry fees.