By Staff Reports
Arizona Daily Wildcat April 21, 1998

Tuesday's Tidbits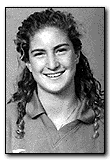 Wildcat File Photo
Arizona Daily Wildcat
Stephanie Venne

Former Arizona volleyball middle blocker Stephanie Venne was one of five students who received a fellowship to Southern Cal in the fall to pursue a Ph.D. Along with a full class load, Venne will spend time with a professor, concentrating on gerontology, the study of aging.
Venne's tuition for the first two years is covered while she also receives a monthly stipend.
She said the program runs about four to five years, depending upon how long it takes to complete the dissertation.
"It'll be a challenge," said the Southern California native who led UA in blocks and digs three times last season. "I'm going to be starting up again straight into another five years."
Venne arrived at the UA in 1993. She is a three-time Academic All-Pacific-10 Conference selection and held a 4.0 grade point average during 1997. Venne, who ranks among the Wildcats' top 10 career stats in four categories, is graduating from UA with a degree in psychology next month.
Senior gymnast Tenli Poggemeyer will most likely remember the last competition of her college career with fond memories. After all, she finished 15th on the floor at the NCAA National Championships at UCLA over the weekend, receiving All-American honors for the first time. However, her trip out to the City of Angels proved to be even more interesting when Poggemeyer and her fiancÈeacute; ran into the roommate of an actor who played in a small little film about a sinking boat. After talking for about 30 minutes in the hotel lobby, the gymnast and her future husband exchanged numbers with the young man. He told them that if they are ever back in the Los Angeles area, they can call him and his pal Leonardo DiCaprio.
Anyone for off-Broadway tennis? UA's women's tennis team has formed a musical ritual before most practices. After an early season relay race won by the upperclassmen over the team's four freshmen, the two seniors - Betsy Miringoff and Vicky Maes - and the team's only junior - Monique Allegre - decided a proper punishment would be the daily production of UA's school song. Students and faculty walking by the tennis courts in the early afternoon can probably catch an enthusiastic rendition of "Bear Down Arizona" by freshmen Joanna Buczkowska, Michelle Gough, Vanessa Abel, and Suzanne Zabrodsky.

Wildcat File Photo
Arizona Daily Wildcat
Stephanie Venne
Former UA wide receiver Rodney Williams went undrafted during the 1998 NFL Draft but found a home with the Oakland Raiders Sunday, signing as a free agent. The wideout was second for the Wildcats in catches last season, pulling in 43 tosses for 674 yards and seven touchdowns.
More offense, anyone? The Arizona baseball team, which has set multiple offensive records this year, is heading for yet another one. If junior third baseman Omar Moraga drives in one more run, the Wildcats will have seven players with at least 40 RBI on the season. It will be the first time since 1988 and just the sixth time ever. Also, this past weekend saw the current team vault into second place all-time with 77 home runs on the season, though that is still well short of the 1993 team's 115. And, in a non-hitting stat, junior left-hander James Johnson became the first pitcher since 1992 to strike out 100 batters in a season. Johnson is at 104 and counting.
The men's tennis team's Mike MacKay, a senior, is planning on accepting a position as a volunteer assistant with the team next year. His redshirt sophomore roommate, Charlie Ian Bachtell, will be returning to the lineup.
"It's a great opportunity for Mike because this is the field that he wants to go into," Bachtell said. "I've got my academic aspects in sort and I will have time to devote attention to both the team and school next year."
After playing his freshman year, Bachtell spent this season practicing with the team and helping head coach Bill Wright with off-court preparations.