By Dan Rosen
Arizona Daily Wildcat April 21, 1998

Rugby season ends with 'monumental' experience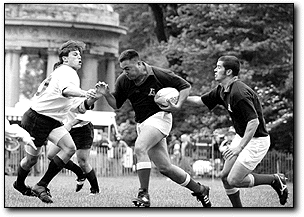 Arizona Daily Wildcat

Greg Lim/special to the Arizona Daily Wildcat In the shadow of the World War One Monument on the Washington, D.C. Mall last weekend, UA senior flanker John Malovich (center) carries the ball toward the Amherst defenders with support of teammate Doug Roosevelt. The Wildcats won the match 23-3 to finish third in the Cherry Blossom National Invitation Rugby Tournament.


The busiest season of Arizona rugby came to a close in the shadows of the Washington Monument last weekend in the Cherry Blossom National Invitational Rugby Tournament.

In a field of 16 teams, most hailing from colleges and universities on the East Coast, the Arizona varsity program (15-5) placed third and the J.V. program (10-5), which was re-seeded in a last-minute decision into the varsity division, placed 10th in the 32nd annual event.

"It proved to be an enriching experience for everyone," UA head coach Dave Sitton said.

The varsity program opened the tournament by holding American University to a donut on the scoreboard in a 23-0 victory in which junior center Alan Lakomskis led the Wildcats with two try's.

In the second game of the day, junior Zack Harrison dominated with two try's and a conversion kick to spur on the attack in a 17-7 victory over Virginia's George Mason.

Even though the Wildcats only gave up seven points on the day while scoring 40, the victories proved to be the most costly of the season because junior and field captain Chris Kron went down with a severe hamstring pull and Lakomskis tore a muscle in his shoulder.

These proved to be key losses, as the Wildcats were defeated in the semifinals 16-7 by Indiana University of Pennsylvania.

"It was mayhem because we had no time to orient our backs," Sitton said. "It was just too much to ask when you have guys who are playing at positions they might have only played 30 minutes at all season."

Despite the loss, UA finished the tournament and its season in style with a dominating 23-3 defeat of Amherst College from Massachusetts. Kay Ogiyama, Matt Gerrow and Jon Shumway provided the Wildcats with offensive leadership.

"The same group of guys who had trouble orienting themselves against Indiana did a lovely job against Amherst," Sitton said.