By Rachael Myer
Arizona Daily Wildcat April 27, 1998

Yuma Hall wins first in recycling race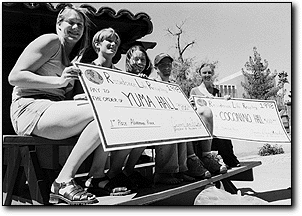 Kristy Mangos
Arizona Daily Wildcat
Yuma Hall recycling committee members, from left, Heather Hoff, Megan Hardy, Naomi Jorgensen, Andrew Edmonds, and Coconino Hall committee member Tracy Smith receive checks for winning first and second place, respectively, in an annual recycling competition among the residence halls. Since September, Yuma Hall has earned almost $372.

For the second year in a row, Yuma Residence Hall has won the "aluminum race," an annual recycling competition among the UA's 17 residence halls.
"We have really conscientious residents," said Yuma's recycling chairwoman Naomi Jorgensen, a Spanish studies freshman. "They are very Earth friendly."
With five recycling chairs and about 144 residents, Yuma Hall has earned about $372 for the dorm by recycling since September, said Residence Life Recycling Coordinator Phoebe Hunter.
Jorgensen said Yuma residents discussed recycling at each hall government meeting to make sure everyone knew about the recycling canisters.
"They (the residents) did it (recycled) on their own," she said.
After eight months of collecting aluminum, the hall with the most recycled pounds per resident won $200, and second place received $100, Hunter said.
Coconino Residence Hall captured second-place honors by earning about $204 from recycling.
All together, the 17 halls have earned a total of $2,623.93. Coronado, which boasts the largest number of residents of all the halls, came in last place, earning only $37.
"The bigger dorms should be bringing in just as many pounds per resident as we do," said Yuma recycling chair Heather Hoff, a chemical engineering sophomore.
The contest is judged by pounds per resident, Hunter said, to ensure the larger halls do not receive an unfair advantage.
Individual hall governments decide what to do with the prize money, she said, though some in the past have used it for a pizza party.
"It is a small hall, so everybody is good about recycling," said Coconino recycling chairwoman Tracy Smith, a creative writing and English junior. "It sort of reaches everybody by word of mouth."
She said she organized a party for her hall last semester where residents drank soda and then recycled the cans. The canisters placed around Coconino, Smith said, encouraged everyone to recycle.
Last year UA's residence halls combined earned a total of $2,893.48 by recycling, Hunter said.
She said she expects residence halls to collect another 700 pounds of aluminum before the end of this semester, bringing the total close to last year's.
"We hope people will drink (soda) a lot during finals," Hunter said.
Yuma Hall residents were pleased with the $200 prize money.
"I think it is great the hall can benefit along with the environment," said Yuma resident Ryan Chirnomas, a molecular and cellular biology sophomore.
Money halls earned since September by recycling aluminum:
Apache-Santa Cruz         $267.03
Arizona-Sonora	          $328.79
Babcock Inn	          $57.21
Cochise	     	          $131.42
Coconino                  $203.64
Corleone Apts.	          $48.12
Coronado                  $37.00
Gila		          $128.72
Graham-Greenlee           $148.71
Hopi		          $120.32
Kaibab-Huachuca           $163.95
La Paz		          $97.00
Manzanita-Mohave          $136.20
Maricopa	          $61.85
Navajo-Pinal-Sierra       $108.50
Yavapai	    	          $231.73
Yuma 		          $371.77

TOTAL                     $2,623.93