By Kristen Davis
Arizona Daily Wildcat September 17, 1997

Arizona gets wake up call in first 5 set win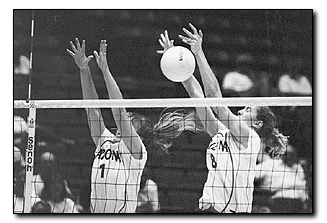 Ryan A. Mihalyi
Arizona Daily Wildcat
Seniors Michaela Ebben (1) and Stephanie Venne (8) extend to block the ball in last night's game against San Diego State. Arizona won in five games, 15-10, 15-2, 15-17, 11-15, 15-10.

The Arizona volleyball team got the match it could have only hoped for, although the players and coaches did not realize it at the time.
The No. 15 Wildcats, who have cruised through non-conference matches this season, easily won the first two games and were up 14-7, but then momemtun switched and they lost the third. They went on to drop the fourth game, which forced their first decisive match of the season against San Diego State last night at McKale Center.
Arizona won the fifth game, 15-10, preserving its unmarked record in front of 450 fans.
"Adversaries always pop up when you're least expecting it," head coach Dave Rubio said. "It was a great opportunity for us to hit rock bottom and to see what we had left and win."
The Wildcats, who travel to Los Angeles this weekend to open Pacific 10 Conference play against eighth-ranked Southern California and No. 17 UCLA, had only lost two games before last night's contest.
Arizona held a 14-7 advantage in the third game and seemed to assume they were on its way to a perfect non-conference record before the collapse.
"I just think that maybe we relaxed and kind of got in a mode like (we did in) every other preseason match," senior Stephanie Venne said.
Eight lost match point opportunities and a handful of unforced errors later - the Wildcats lost the match, 17-15, when senior Carrie Penfield, who led the team with 16 kills, spiked the ball into the net. Collectively, UA hit .047 in the game - with its 11 errors offsetting its 13 kills in 43 attempts.
"I thought the game was wrapped up ... It was a reality check in that some people aren't going to roll over," Venne said.
"Everyone was on their heels on our side and everyone was coming after us on their side."
Martina Vitkova-Engels, an outside hitter for San Diego State (5-3), sparked the Aztecs' rally with three sideout attacks and finished the night with a match-high 24 kills.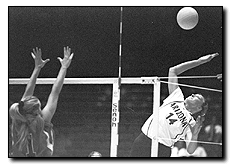 Ryan A. Mihalyi
Arizona Daily Wildcat

Senior outside hitter Carrie Penfield tries to recover a bad set during Arizona's five-game win against San Diego State last night. Penfield led the Wildcats in kills with 16, while Aztec outside hitter Martina Vitkova-Engels hit a match-high 24.
Venne, who continues to suffer from shin splints, played in all five games and finished with a team-best .476 hitting percentage.
"Stephanie really adds to the team in her leadership skills in those situations ... She's such a good leader and we needed her tonight. I didn't want to play her that much, but we needed her," Rubio said.
Arizona (8-0) continued to play with low intensity in the fourth game, committing error after error.
The Wildcats combined for 35 hitting errors last night, compared to the 39 they committed in three matches over the weekend. In addition, outside hitters Raelene Morton and Allison Napier finished last night's match with negative hitting percentages.
Rubio, who spent most of the preseason leaning back in his chair and silent before tonight, rose to his feet on many occasions to tell his team what to do.
Three blocking errors and a net violation in the fourth game gave the Aztecs a 15-11 win.
"We just completely relaxed and assumed the other squad was going to make a lot of unforced errors and quite frankly, I'm glad that didn't happen...These situations are going to occur in the Pac-10 all the time," Rubio said.
The Wildcats never trailed in the final game. Venne served four consecutive points to increase the lead to 10-6 in a cleaner offensive effort. Arizona, who moved up three spots in the latest USA Today/AVCA poll, went on to take the decisive game.