By Seth Doria
Arizona Daily Wildcat September 17, 1997

Changing of the guard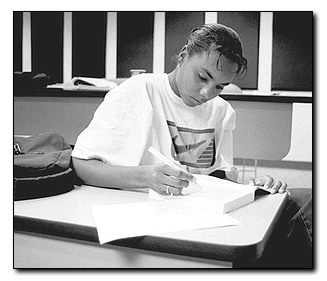 Nicholas Valenzuela
Arizona Daily Wildcat

Arizona's redshirt freshman guard Reshea Bristol studies during a study period yesterday afternoon at McKale center. Bristol should see ample playing time this season and hopes to one day play in the WNBA.


When Reshea Bristol was in high school, she was by far the best player on her team.

The four time Nebraska All-State selection nearly averaged a triple-double in her high school career and led her team to the state championship game in 1995.

"She was by far the best player to come out of this school." William Jennings Bryan High School coach John Green said. "She made everyone else around her better. She's fierce and competitive."

Asking Bristol about herself, the mild-mannered guard was quick to reply.

"I was blessed with god given talent and I practiced a lot," she said.

Green also touted Bristol's leadership abilities.

"She was a dynamic character," he said. "She led by example - not a whole lot of rah-rah-rah. She worked hard and was intense. She was all business."

But when Bristol got to Arizona last year, she had to deal with the fact that she was no longer the star or leader of the team.

"I had never had to sit the bench in my life. Then I was all the way at the end of it," she said.

Bristol redshirted last season and now feels she is ready to make a significant contribution to the team.

She spent time this summer working on her weak points, namely handling the ball in traffic and being stronger when it's in her grip.

"When I got here I was getting knocked all over the place," she said.

Bristol said that last year also taught her to be mentally tough.

"Redshirting was a very positive thing," she said. "Going from high school to Division I was a big step. It's a whole team here, not just one person. It taught me maturity."

And when you add maturity to Bristol's skills, it is easy to see why Arizona basketball head coach Joan Bonvicini is excited about her new playmaker.

"She's just talented," said Bonvicini, who has coached four first team All-Americans. "She's very versatile, can handle the ball and jump out of the gym."

Assistant coach Tracy Waites said Bristol "will be a big lift to our team. She's an extra solid guard."

Bristol, who is known for her passing skills, said she first started playing in YMCA leagues.

She said she also used to play with her older brother, LaRon Bristol, and his friends in pick up games.

"The boys would get mad if I shot the ball, so I was scared to shoot. My game was to pass the ball. My shots would have been blocked anyway," she said.

Bristol said she eventually learned to throw no-look passes, passes behind her back and alley-oops.

"Anybody can pass the ball," she said. "Being able to throw no-look passes just made me a better player. I guess you could say passing is my forte."

Bristol listed her brother, Lynette Woodard and Forest Roper as her basketball influences.

Woodard was the first woman to play for the Harlem Globetrotters, and is now a star in the WNBA, where Bristol also hopes to play.

Bristol played for Roper, who coached Woodard when she was younger.

For the Wildcats, Bristol, who is 5-foot-10, is expected to bring a spark off of the bench.

Waites said she wasn't sure where exactly Bristol would play, saying she could fit into either guard spot or at small forward.

Bristol said she would be interested in playing small forward because she can rebound and outlet the ball up the floor quickly.

But, then added, "I'll play anywhere they ask me to play."