By D. Shayne Christie
Arizona Daily Wildcat September 19, 1997

U cluster faces high volume of logins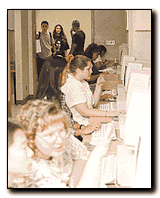 Charles C. Labenz
Arizona Daily Wildcat

Afternoon rush-hour traffic forces students to line up and wait for one of the 68 computers in the Hewlett Packard Memorial Student Union Computing Lab behind Sam's Place.


Due to a high volume of logins on the "u.arizona.edu" network, computer users around campus could not access their accounts earlier this week, said managers at the Center for Computing and Information Technology.

The problem is caused by an unusually high volume of logins, said Viji Muralidharan, computing manager at CCIT.

When logging into the U cluster, the computer gives the user a message stating "all logins are in use," she said.

"Demand was exceeded this time, I think it is the first time," Muralidharan said.

However, no students at the Hewlett Packard Memorial Student Union Computing Center reported problems yesterday.

Lab Monitor Casey Zhang, a graduate student, said at least 10 students complained about problems Wednesday, when students could not login between 11 a.m. and 3 p.m., but he heard few complaints yesterday.

"Whatever they (system managers) have done may have caused the problem to be fixed temporarily," Muralidharan said.

Shaaniin Hale, a special education and rehabilitation junior, said she was unable to check her e-mail when she tried early yesterday. Luckily, Hale said, there was "nothing real pressing," that she needed.

"If you really needed to use it and it was not available there could be a problem," said undeclared freshman Eva Jimenez.

A problem is exactly what some students in Professor Richard Hallick's Biology 181 class encountered early this week.

Students trying to e-mail him for last minute help before an exam Wednesday morning were unable to get messages to him, Hallick said.

"I use e-mail as a way of extending my office hours," he said, adding when he was unable to communicate with his students he voiced his concerns to CCIT.

Hallick said his department, as well as many others, have been encouraged by UA to give up whatever e-mail server they were using in favor of the U cluster.

Students have also been encouraged by CCIT to convert from older systems which are either on their way out, or have already been eliminated.

Why would CCIT encourage all users to convert to the U cluster, thus filling the network beyond its capacity?

"We don't know what will come across in the future. You plan for the future and growth is one of those unknown factors," Muralidharan said.

Only engineering and computer science people used e-mail 10 years ago, she said, noting that now a majority of the campus uses e-mail or other network applications.

The number of modem connections to CCIT's networks increased 55 percent between 1995 and 1996 -æfrom 13,000 users per day to 20,100.

Muralidharan could not speculate how much that number has increased this year.

There were 23,500 e-mail accounts through CCIT in 1995 and the number increased to 39,526 in 1996. Similarly, connections to UAInfo jumped to 53,000 in 1996 from 29,000 in 1995, an 83 percent increase.

The increase in computer use across the board, plus using the network for more memory consuming applications - like virtual reality simulations to quick time movies via the Internet - has resulted in a demand that CCIT has been unable to fill.

The University of Arizona, under former President Manuel Pacheco, entered into a planning study in spring 1993 with IBM and Systems Solutions Corporation to determine the UA's computing needs and then make recommendations.

The team determined the UA should provide network access to all members of the campus community and the team envisioned a "21st century University of Arizona with an electronic learning environment not bound by classroom walls," according to the "Computing and Communications News," from summer 1994.

Computing is enough of a priority on campus that "Yahoo! Internet Life," an online magazine, ranked UA 14 out of 300 colleges and universities for providing access and exposure to the Internet.

CCIT is working on solutions both long term and short term to the crowding problem.

While reallocation of memory on the system seems to have solved the problem temporarily, a permanent solution cannot be reached without purchasing new hardware, Muralidharan said.

One easy adjustment, which will help alleviate the problem, can be made by users who access the U-cluster from their homes or other remote sites.

The setting for "check mail every ... ," which automatically logs into the U-cluster to check for new mail, should be set for 30 minutes or more. Many computers have a default setting which checks the mail every minute or so, and that kind of activity crowds the network.

For more information about e-mail settings call 621-HELP.