By L. Anne Newell
Arizona Daily Wildcat September 19, 1997

'Non-frat- fraternity' turns a year old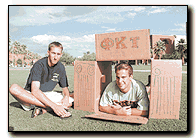 Katherine K. Gardiner
Arizona Daily Wildcat

Phi Kappa Tau president and journalism/political science senior, Geoff Smith (right) and vice president Bruce Wilton, an astronomy senior are still looking for a place for the "non-frat-fraternity" to call home. The fraternity celebrates today one year in existence on the UA campus.


Today, on its one year anniversary, Phi Kappa Tau is looking forward to being recognized by its national chapter, while also working to change the stereotyped image of Greek Life.

President Geoff Smith said the past year has been a year of hard work and tremendous growth, and the anniversary means a lot to individual members.

John Chafin, director of expansion for the national headquarters, said the UA colony has completed nine of 10 qualifications needed to be recognized as a chapter.

A chapter is referred to as a colony until it receives a charter from its national headquarters.

The 10 requirements include recruitment, community service, philanthropy, participation in college events and the Interfraternity Council, $1,000 in savings and participation in national conventions.

The fraternity, which prides itself on being labeled the 'non-frat-fraternity,' has 22 members, and needs 35 to 40 to submit a petition for a charter, Smith said.

Peter Rosenthal, a member of the colony, said the fraternity expects to reach this number soon.

"We're trying to get our name out to those students who overlooked us at rush," he said.

As a colony, Phi Kappa Tau is allowed to have a year-long open rush, which means they can accept members at any time.

Smith said two new members were accepted during fall rush and he plans to petition for charter status when membership reaches about 30 people.

Smith said the petition will be submitted by late November or early December.

If that petition is accepted, the colony will become a charter and petition the Interfraternity Council for acceptance.

Smith expects everything to go well.

"We've formed good relationships," he said.

Chafin said the UA colony has not recruited enough members yet, but said he is very proud of the group.

"They represent everything a fraternity should stand for: young men working for their community," he said.

In the past year, the fraternity has sponsored two Red Cross blood drives, a Casa de los Ni÷os car show, Christmas in April and Adopt A Family, with Project Volunteer.

In addition, the colony raised $500 for its national philanthropy, the Hole in the Wall Gang, and $250 for a member of the Colorado chapter who has cancer.

Yet Smith said he wants the colony to do more than one-time-events. In the next year, he said, the colony plans to work with Project Yes, as tutors, and the Make A Wish Foundation, as clowns in children's hospitals.

Smith said the fraternity plans to do one philanthropic event per month, on top of larger projects.

Founded in 1906 at Miami University, in Oxford, Ohio, as the Non-Fraternity Association, Phi Kappa Tau still tries to embody a non-stereotypical image of fraternities, Chafin said.

Smith said his colony still does Bid Night and other typical fraternity events, but tries to encourage more traditional values between members.

"Brotherhood is not going out and getting drunk together," he said. "It's about support and acceptance."

Smith said Phi Kappa Tau is set apart from other fraternities and has not developed a negative image because it has not faced some problems other fraternities have faced, such as police shutting down parties.

Colony Vice President Bruce Wilton said, "We're really trying to get away from the 'Animal House' stereotype."

Wilton joined the fraternity after originally planning to go through fall rush. He said an ad he saw for Phi Kappa Tau promoted the aspects of fraternity life, such as brotherhood, and non-hazing, he valued.

Rosenthal also saw these values when he joined the fraternity just before spring semester.

"We are non-hazing," he said. "People come in and are part of the fraternity right away."

Everyone has a part in meetings and is allowed to vote from their first day, he said.

While Smith said the colony is still looking for a house, he expects to have found one by next fall.

Wilton said, "Hopefully, by spring, we'll have members, a house, a charter and a good, positive presence on campus."

Chafin said the fraternity has 95 chapters nationwide, with 3,500 undergraduate members and 75,000 alumni.