By Greg Clark
Arizona Daily Wildcat September 25, 1997

Nora moves in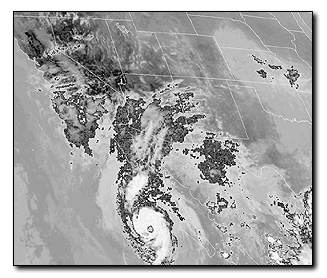 Photo courtesy of the National Weather Service
Arizona Daily Wildcat
Hurricane Nora hit the Baja California coast yesterday and affects of the tropical storm are expected to hit Tucson today. The UA has taken precautions against flooding predictions by sandbagging entrances into campus buildings.

The National Weather Service has advised Tucson residents to be prepared for up to 4 inches of rain today as a large tropical storm sweeps into western Arizona.
Formerly hurricane Nora, which hit land yesterday along the Baja California coast, the storm is expected to enter Arizona today bringing heavy rains and winds as high as 35 miles per hour, said Marvin Shogren, meteorologist-in-charge of the weather service's Tucson office.
"There will be a lot of activity here," Shogren said. "People need to be prepared for heavy rains, gusty winds and inclement weather conditions."
In preparation for possible flooding, the University of Arizona has stacked sandbags at several campus locations, cleared drains and checked water pumps.
Al Tarcola, director of the UA Department of Facilities Management, said his department has stacked 200 sandbags along the west side of McKale Center.
"We have had problems in the past with water getting in to damage the floor," Tarcola said.
Sandbags have also been placed around several stairwells on campus to prevent flooding in basements, he said.
"All our roofs are in exceptionally good condition; we don't expect to have any leaking inside university buildings," Tarcola said.
While problems are expected on campus, flooding is also anticipated throughout the city and outlying areas.
"With 1 to 4 inches of rain, the major washes and many of the tributaries will flow," Shogren said.
The Tanque Verde and Pantano Washes and some of the smaller drainages could reach high water levels, he said, and predicted the closure of many roads at unbridged river crossings.
The moisture that entered the state Tuesday and blanketed Pima County yesterday, was moisture pushed ahead of the storm, said meteorologist Paul Flatt. The edge of the tropical storm itself should reach the Tucson area early this afternoon, he said.
Forecasters expect the center of the storm to move northward through western Arizona today, where they expect the heaviest rains.
Sometimes, though, rainfall can be especially heavy along the edges of the storm, particularly along the eastern side, the area expected to hit Tucson.
"Sometimes these storms have their highest rainfall in those spiral bands," Shogren said.
If the storm continues along its current course, the eye will pass over Yuma early this afternoon, Shogren said.
Yesterday, the weather service office in Phoenix issued a flash flood warning for western Arizona.
Hurricanes are common in the eastern Pacific this time of year, and commonly cause weather disturbances in Arizona, said UA atmospheric sciences Professor Joe Zehnder. The hurricane season in the eastern Pacific runs from July to October, with peak activity occurring in August, he said.
In 1983, a similar hurricane fueled a tropical storm that caused major flooding in Tucson.
That storm came to a stop in Tucson, settling in the valley and dumping as much as 7 inches of rain in a few days, Flatt said.
Forecasters do not expect similar flooding this week because the storm is moving northward fairly quickly, and should accelerate as it moves further inland, Shogren said.
Rain will continue throughout today and tomorrow, with clearing expected tomorrow night as the storm travels north, Shogren said.
Weather service hydrologist Andy Bryant said he doesn't expect flooding similar to 1983 levels to be a major problem, even if four inches of rain falls in 48 hours. Bank erosion in river beds, though, does pose a danger, he said.
The banks of the Santa Cruz river, which flows north near much of Interstate 10 in Tucson, are not protected and can be quickly eroded by flood waters, Bryant said. "People may have the bank 400 yards away from their house one day, and the next the river is in their backyard," Bryant said.
For the latest weather updates from the National Oceanic and Atmospheric Administration, call the weather hotline at 881-3333.