By Tory Hernandez
Arizona Daily Wildcat September 25, 1997

ASUA Senate wary of proposed student fee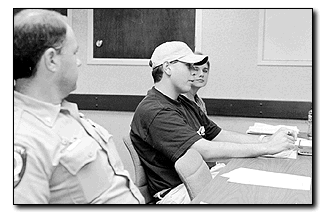 Dan Hoffman
Arizona Daily Wildcat

Senator Cisco Aguilar (center) speaks out against a student fee at the ASUA Senate meeting last night. The proposed fee would be used for upgrading and renovating the Memorial Student Union.


Plans for a student fee to improve the Memorial Student Union faces a skeptical ASUA Senate, if last night's meeting is any indication.

At the Senate's meeting, senators said they believe they need a more specific budget and proof that the administration is pursuing alternative measures of funding.

Senators have been officially discussing the issue since last week, but administrators have given only estimated figures for the project. Last week, UA Budget Director Richard Roberts told the Senate the Student Union renovation would cost about $60 million and the money would be raised by a bond issue. The student fee would be about $50 a semester until the bond was paid off.

"Since the UA is a land grant institution, tuition is supposed to be as nearly free as possible. With a fee, our tuition would not be as close to that as it should be," said Sen. Cisco Aguilar. Aguilar also said he was opposed to the fee because it will set a precedent for fees at the university.

Other senators agreed.

"Before we implement this fee, I want to know other valid options are available," said Sen. Rosanna Savone.

Sen. Mary Peterson said she was concerned the administration would back off searches for other funding once a fee was approved.

The senators already approved two possible referendum voting days in November, but have not yet decided which referendum will be voted on.

A group of campus leaders and administrators have been meeting to discuss the Student Union. That group will decide how the referendum is worded. The Senate must approve all aspects of it for students to vote on.

"The administration has given us a lot of freedom on this. We have the power to decide what the referendum will say," said Executive Vice President Casey Cuny.

In other business, the Senate approved $2,000 to fund the ASUA/Residence Hall Association Basketball League. The league has run for three years, forming teams of underprivileged youth, ages 7 to 14, in Tucson.

The Senate also approved $110 for a Designated Driver Night, scheduled for Oct. 4. The project, headed by Sen. Stephanie Lyons, provides wrist bands for designated drivers outside local bars. The bars will in turn provide free non-alcoholic drinks to the drivers.

In addition, the senators approved the appointment of Norma Navarro and Margi Marsett as co-directors of the Women's Resource Center.