By Kristen Davis
Arizona Daily Wildcat September 29, 1997

Wildcats come back to down ASU in another 5 game scare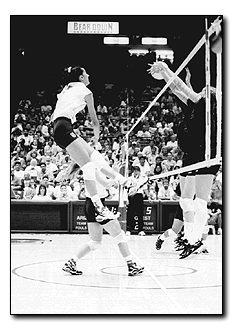 Nicholas Valenzuela
Arizona Daily Wildcat

Sophomore middle blocker Erin Aldrich goes up for a backset during Arizona's come-from-behind win Friday night against Arizona State. Aldrich led the Wildcats with a team-high 17 kills, also a season-high for her.


If the volleyball team's Friday night match was any indication of future conference matches, the Wildcats are in good shape.

No. 16 Arizona dropped the first two games to Arizona State in front of 2,405 fans at McKale Center. They survived the third but looked as if they would drop to 1-2 in the Pacific 10 Conference when the unranked Sun Devils were one point away from the upset with a 14-8 lead.

Instead, the Wildcats came back to win the fourth and the rally-style fifth game to capture the match, 7-15, 9-15, 15-2, 16-14, 15-9.

It was Arizona's third five-game decision in four matches. They have won all three this season and are 7-1 in such contests over the last two years.

"We have a lot of confidence now," UA coach Dave Rubio said. "If we can pass the ball it's tough for us not to sideout."

In the fifth game, every sideout is a point. Meaning, if a player serves the ball in the net or spikes out of bounds, the other team earns a point.

"It's such an intense, action-packed match. The tendency is to want to play it safe," Rubio said.

Rubio knows that a team has to take chances and can't expect to win by simply putting the ball in bounds.

In fact, during timeouts he said the theme of his speeches had nothing to do with tactics or fundamentals. Instead, he told the team they've "just got to get up and bang the ball."

"It's all about getting in the zone," senior Carrie Penfield added. "When you're playing the game with such fire and adrenaline flowing, then you pretty much say, 'make it happen.'"

Arizona (10-1 overall, 2-1 Pac-10) never trailed during the fifth game. They jumped out to a 3-0 advantage with the help of a pair of blocks. The Sun Devils pulled to within one with the help of Terri Cox, who had a match-high 20 kills and 17 digs, to reduce Arizona's lead to 9-8.

Aggressive attacks by Erin Aldrich, Michaela Ebben, Penfield and Keisha Johnson, who recorded two of her four kills in the final game, secured Arizona's win.

"We're a great sideout team," Johnson said. "When our passing is on, anyone on the team can put the ball away at will."

Aldrich led the team in kills with 17 and Penfield added 15.

Arizona outhit its in-state rivals and posted 15 total team blocks, compared to ASU's seven.

"I really think we're the better team. We couldn't maintain any offensive pressure in the front row," said ASU coach Patti Snyder-Park, whose team dropped to 10-4, including an 0-3 mark in the Pac-10.

The Wildcats' victory saved the Wildcats chances of breaking the school record for consecutive wins at home next weekend when they face sixth-ranked Washington State. They tied the mark, which was originally set during the 1994-95 season, with Friday night's victory.

With conference play just underway, the Wildcats can be assured to see many more tight matches.

"I've always said I expect this conference to be a four to five game conference most of the time," Rubio said. "This was one of the matches I expected to go five. I didn't think it needed to, but obviously I was wrong."