By Tressa Girodo
Arizona Daily Wildcat September 29, 1997

Wildcats match last season's win total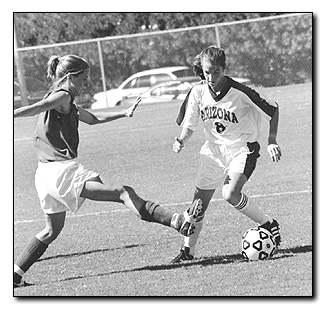 Leigh-Anne Brown
Arizona Daily Wildcat

UA senior captain Emily Bumps (8) dribbles past a Creighton defender in yesterday's game at Murphey Stadium. The Wildcats scored three goals in the first half to beat Creighton 3-1 for their fifth win of the season.


Two Wildcat defenders scored yesterday bailing out the offense, which was held scoreless over the weekend.

Senior defender Melissa Kessler and junior midfielder Kim Veeder scored the first goals of their collegiate careers, and freshman defender Brooke McManus netted her second of the season as Arizona lost to New Mexico Friday night, 1-0, before beating Creighton 3-1.

The Wildcats are now 5-4-1 overall and 0-1-0 in the Pacific 10 Conference.

The Wildcat offense outshot its opponents 39-27 over the weekend but like last week, when it took 48 misses before the game-winner in overtime against UTEP, goals are few and far between.

Freshman goalkeeper Inger Airheart collected a season-high nine saves against Creighton.

"I am not at all surprised about our success," Airheart said. "We have a lot of talent on this team and it is finally clicking together."

The Wildcats took control of the game early when Kessler scored the first goal just under four minutes into the game. The ball came off a corner kick from sophomore forward Megan Canaday and bounced past the goal where sophomore Krista Bogdan put the ball back into play. Kessler put the ball in the upper right corner of the goal off Bogdan's rebound.

The Wildcats' second goal came with 14:30 left in the first half. Veeder made her presence known immediately, scoring off of her first touch in the game. Veeder was all alone outside the 18-yard box when she fired a near-post shot past Lady Jay goalkeeper Maggie Phelan.

Arizona padded its lead with 13 seconds left in the half as McManus found the back of the net from the top of the box - collecting her second goal in three games.

"It was great that we had three different people score for us," Junior forward Nikki Jones said. "We had a good attack with lots of crosses-their defense left us space in the midfield allowing us to move forward."

Friday night's game against the Lobos was an uphill battle for the Wildcats. UA outshot the Lobos 24-9, but UNM needed only their first shot of the game to edge Arizona. Lobo senior forward Laurie Hegedorn lobbed a direct kick over Airheart in the 13th minute.

The Arizona coaches are pleased with the success of the season, tying last season's win total with eleven games remaining.

"The only game we should have lost was the UNM game Friday," head coach Lisa Fraser said. "But we are playing great soccer so far. Now we need to fine tune a few areas to maintain the success."